We are Triethyl Orthoformate CAS:122-51-0 manufacturer and supplier in China, Pls send inquiry of to info@nbinno.com of visit www.nbinno.com our official website should you have any interests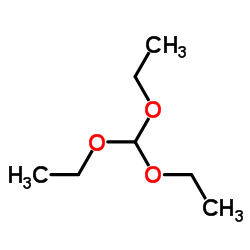 Product Description:
Product Name: Triethyl Orthoformate CAS NO: 122-51-0
Synonyms:
1,1,1-Triethoxymethane;
Orthoformic Acid Triethyl Ester;
Ethane, 1,1',1''-[methylidynetris(oxy)]tris-;
Chemical & Physical Properties:
Appearance: Colorless liquid, with spicy odor
Assay :≥99.0%
Density: 0.891
Boiling Point: 146℃
Melting Point: -61℃
Flash Point: 30℃
Refractive Index: 1.39-1.392
Water Solubility: 1.35 g/L
Sensitive: Moisture sensitive
Stability: Stable under normal temperatures and pressures
Storage Condition: Flammables area
Vapor Density: 5.11 (vs air)
Vapor Pressure: 2.9 mm Hg ( 20℃)
Safety Information:
RTECS: RM6475000
Hazard Class: 3
Safety Statements: S16-S26-S37/39
HS Code: 2915130000
WGK Germany: 1
Packing Group: III
RIDADR: UN 2524
Risk Statements: R10; R36/38
Hazard Code: Xi
Caution Statements: P210; P403 + P235
Symbol: GHS02
Signal Word: Warning
Hazard Declaration: H226
Triethyl orthoformate is an organic compound with the formula HC(OC2H5)3. It is a colorless volatile liquid. It is orthoester of formic acid. Commercially available, the industrial synthesis is from hydrogen cyanide and ethanol.
It may also be prepared from the reaction of sodium ethoxide and chloroform:
CHCl3 + 3 Na + 3 EtOH → HC(OEt)3 + 3⁄2 H2 + 3 NaCl
Triethyl orthoformate is used in the Bodroux-Chichibabin aldehyde synthesis, for example:
RMgBr + HC(OC2H5)3 → RC(H)(OC2H5)2 + MgBr(OC2H5) RC(H)(OC2H5)2 + H2O → RCHO + 2 C2H5OH.
In coordination chemistry, it is used to convert metal aquo complexes to the corresponding ethanol complexes:
[Ni(H2O)6](BF4)2 + 6 HC(OC2H5)3 → [Ni(C2H5OH)6](BF4)2 + 6 HC(O)(OC2H5) + 6 HOC2H5
If you are interested in our products or have any questions, please feel free to contact us!
Products under patent are offered for R & D purpose only. However, the final responsibility lies exclusively with the buyer.

Related Products:8,14-Cyclodidehydrolabd-13(16)-en-15-al manufacturer | Phosphonic acid, [2-(mercaptomethyl)-5-benzothiazolyl]- supplier | 1,3-Benzenedicarboxylic acid, 5-(hexyloxy)-, dihydrazide producer.