We are Thimerosal CAS:54-64-8 manufacturer and supplier in China, Pls send inquiry of to info@nbinno.com of visit www.nbinno.com our official website should you have any interests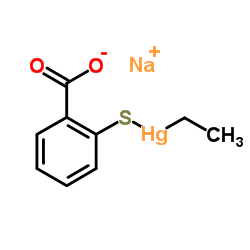 Product Description:
Product Name: Thimerosal CAS NO: 54-64-8
Synonyms:
sodium,(2-carboxylatophenyl)sulfanyl-ethylmercury;
Merthiolate sodium;
Sodium ethylmercurithiosalicylate;
Chemical & Physical Properties:
Appearance: Pale yellow powder
Assay :≥99.00%
Boiling Point: 298.6℃ at 760mmHg
Melting Point: 232-233℃
Flash Point: 250℃
Stability: Stable. May degrade in sunlight. Incompatible with strong acids, strong bases, strong oxidizing agents, iodine, heavy metal salts.
Storage Condition: Store at RT.
Water Solubility: 1 G/ML (20℃)
Safety Information:
RTECS: OV8400000
Hazard Class: 6.1(b)
Safety Statements: S13-S28-S36-S45-S60-S61
HS Code: 29310095
Packing Group: III
WGK Germany: 3
RIDADR: UN 2025
Risk Statements: R26/27/28; R33; R50/53
Hazard Codes: T+; N
Thiomersal (INN), commonly known in the U.S. as thimerosal, is an organomercury compound. This compound is a well established antiseptic and antifungal agent.
The pharmaceutical corporation Eli Lilly and Company gave thiomersal the trade name Merthiolate. It has been used as a preservative in vaccines, immunoglobulin preparations, skin test antigens, antivenins, ophthalmic and nasal products, and tattoo inks. Its use as a vaccine preservative was controversial, and it was phased out from routine childhood vaccines in the European Union, and a few other countries in response to popular fears. The current scientific consensus is that no convincing scientific evidence supports these fears.
In the U.S., Thiomersal has been removed from or reduced to trace amounts in all vaccines routinely recommended for children 6 years of age and younger with the exception of inactivated influenza vaccine. Vaccines with trace amounts of thiomersal contain 1 microgram or less of mercury per dose.
If you are interested in our products or have any questions, please feel free to contact us!
Products under patent are offered for R & D purpose only. However, the final responsibility lies exclusively with the buyer.

Related Products:1-benzyl-3-bromo-5-fluoro-1,2,4-triazole manufacturer | Cellulose sulfate sodium salt supplier | 1,2-dibromo-1,2-difluoroethene producer.