We are Raffinose CAS:512-69-6 manufacturer and supplier in China, Pls send inquiry of to info@nbinno.com of visit www.nbinno.com our official website should you have any interests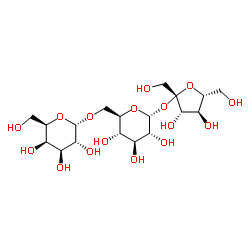 Synonyms:
Raffinose
(2R,3R,4S,5S,6R)-2-{[(2S,3S,4S,5R)-3,4-Dihydroxy-2,5-bis(hydroxymethyl)tetrahydro-2-furanyl]oxy}-6-({[(2S,3R,4S,5R,6R)-3,4,5-trihydroxy-6-(hydroxymethyl)tetrahydro-2H-pyran-2-yl]oxy}methyl)tetrahydro-2H-pyran-3,4,5-triol
β-D-Fructofuranosyl-α-D-galactopyranosyl-(1->6)-α-D-glucopyranoside
Gossypose
α-D-Glucopyranoside, β-D-fructofuranosyl O-α-D-galactopyranosyl-(1->6)-
MELITRIOSE
Raffinose
MFCD00006630
β-D-Fructofuranosyl α-D-galactopyranosyl-(1->6)-α-D-glucopyranoside
b-D-Fructofuranosyl-O-a-D-galactopyranosyl-(1®6)-a-D-glucopyranoside
Melitose
Raffinose (8CI)
D-(+)-Raffinose
molecular formula: C18H32O16
Molecular weight: 504.43700
Physical Properties:
Appearance: white powder or crystal
Density: 1.8±0.1 g/cm3
Boiling point : 884.8±65.0 °C at 760 mmHg
Melting point: 80ºC
Flash point: 488.9±34.3 °C
Vapor Pressure : 0.0±0.6 mmHg at 25°C
Refractive index: 1.676
Specification:
Raffinose: 99%
Moisture: 1.8%
Ash: 0.12%
Total number of colonies: 800CFU/g
Application:
Raffinose (Melitose) is an indigestible short-chain oligosaccharide, a trisaccharide composed of galactose, glucose, and fructose, found in many plants. Raffinose (Melitose) can be hydrolyzed to D-galactose and sucrose by α-galactosidase (α-GAL).
Package and Storage:
1kg/bottle or bag
25kgs/drum or bag

Market News:The majority of adults with lupus have increased type I interferon signalling, which is known to be associated with disease activity and severity. [Mo2(η-C5H5)2(μ-SMe)4] manufacturer.The green light converts the companies' accelerated approval to a full approval for endometrial cancer that's not microsatellite instability high (MSI-H) or mismatch repair deficient (dMMR) and for patients whose tumors have progressed following prior treatment. ethyl 5-butyl-2-diethoxymethyl-6-hydroxypyrimidine-4-carboxylate supplier.As the Covid-19 pandemic continues to challenge the global drug supply chain, nations are looking for new ways to enable native producers to continue scaling up. Now, an Israeli API maker is dropping a down payment into an Indian intermediates company to ramp up its own manufacturing base. 4,5-Dimethyl-2-diphenylpenicillin producer.