We are Pentaerythrityl tetrastearate CAS:115-83-3 manufacturer and supplier in China, Pls send inquiry of to info@nbinno.com of visit www.nbinno.com our official website should you have any interests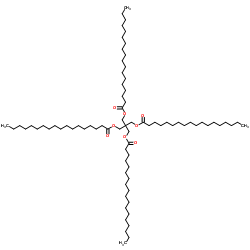 Synonym:
PE TETRASTEARATE
3-(octadecanoyloxy)-2,2-bis[(octadecanoyloxy)methyl]propyl octadecanoate (non-preferred name)
Tetra-O-stearoyl-pentaerythrit
Pentaerythritl tetrastearate
pentaerythritetetra-n-stearate
octadecanoic acid, 3-[(1-oxooctadecyl)oxy]-2,2-bis[[(1-oxooctadecyl)oxy]methyl]propyl ester
PE TETRASTEARATE
Pentaerythritol Tetrastearate (so called)
tetra-O-stearoyl-pentaerythritol
pentaerythrityl tetraisostearate
EINECS 204-110-1
3-(Stearoyloxy)-2,2-bis[(stearoyloxy)methyl]propyl stearate
Pentaerythritol tetraoctadecanoate
3-(octadecanoyloxy)-2,2-bis[(octadecanoyloxy)methyl]propyl octadecanoate
PENTAERYTHRITYL STEARATE
PENTAERYTHRITOL TETRASTEARATE
OCTADECANOIC ACID, 2,2-BIS[[(1-OXOOCTADECYL)OXY]METHYL]-1,3-PROPANEDIYL ESTER
molecular formula: C77H148O8
Molecular weight:
1201.994
Chemical & Physical Properties
Density: 0.9±0.1 g/cm3
Boiling Point: 998.5±60.0 °C at 760 mmHg
Melting Point: 60-66 °C
Molecular Formula: C77H148O8
Molecular Weight: 1201.994
Flash Point: 342.4±32.9 °C
Exact Mass: 1201.117432
PSA: 105.20000
LogP: 34.01
Vapour Pressure: 0.0±0.3 mmHg at 25°C
Index of Refraction: 1.469

Specification
Appearance: White flakes or powder
Melting range: 55-65℃
Iodine value (g I2/100g) : ≤2.5
Acid value (mg KOH/g) : ≤6.0
Saponification value (mg KOH/g): 180-198

Application
PETS has good thermal stability and low volatility at high temperature, good mold release and flow properties, and is used as a dispersant and lubricant in the rubber and plastic industries. It is especially suitable for applications requiring both thermal stability and excellent mold release properties. working condition. It plays the role of plasticizing, lubricating and demoulding in the rubber plasticizing process.

Package and Storage
25kg/drum, store at room temperature away from light.
Items of Analysis
Standard of Analysis
Test Results
Appearance
White flakes or powder
Conform
Melting range
55-65℃
60.8-61.6℃
Iodine value (g I2/100g)
≤2.5
1.12
Acid value (mgKOH/g)
≤6.0
3.64
Saponification value (mgKOH/g)
180-198
195.2
Conclusion
Conforms to Factory Standard

Market News:Findings show that there is a decline in the body's immunity over time. The aim of the supplementary dose is to build it up again, and thus reduce the chances of infection and serious illness significantly," Bennett told a news conference.
"I call on all the seniors who received the second dose, go get the supplementary one," he said. "My first telephone call, after I finish speaking, will be to the person dearest to me, my mother, so that I can take her to be vaccinated immediately. 3,3-(2,2′-biphenyldiyl)-4-methyl-4-(m-(perfluoromethyl)-phenyl)-1,2-dioxetane manufacturer.Pfizer said on Wednesday it believes people need the additional dose to keep protection against the coronavirus high. The company says it could apply for U.S. emergency authorization for booster shots as early as August. read more 2(3H)-Benzofuranone, 3a,4,7,7a-tetrahydro-5-(phenylsulfonyl)-, cis- supplier.The booster campaign, with shots administered by health maintenance organisations, will effectively turn Israel into a testing ground for a third dose before approval by the U.S. Food and Drug Administration (FDA). 1-(23-hexaoxan-2-yl)-3-hydroxy-14,33-tetraoxidan-1-one producer.