We are Optical Brightener KSN CAS:5242-49-9 manufacturer and supplier in China, Pls send inquiry of to info@nbinno.com of visit www.nbinno.com our official website should you have any interests

Synonyms:
Fluorescent Brightener KS-N
OPTICAL BRIGHTENER 368
EINECS 226-044-2
2-(4-{(E)-2-[4-(1,3-Benzoxazol-2-yl)phenyl]vinyl}phenyl)-5-methyl-1,3-benzoxazole
Benzoxazole, 2-[4-[(E)-2-[4-(2-benzoxazolyl)phenyl]ethenyl]phenyl]-5-methyl-
4,4'-Bis-(5-methyl-2-benzoxazolyl)-stilben
2-(4-{2-[4-(benzoxazol-2-yl)phenyl]vinyl}phenyl)-5-methylbenzoxazole
5-Methyl-2-(4-(2-(4-(2-benzoxazolyl)phenyl)ethenyl)phenyl)benzoxazole
KSN
2-[4-[4-(2-benzoxazolyl)styryl]phenyl]-5-methylbenzoxazole
5-methyl-2,2'-(vinylenedi-p-phenylene)bis-benzoxazole
2-(4-{2-[4-(1,3-Benzoxazol-2-yl)phenyl]vinyl}phenyl)-5-methyl-1,3-benzoxazole
2-(4-(2-(4-(Benzoxazol-2-yl)phenyl)vinyl)phenyl)-5-methylbenzoxazole
FBA 368
2-{4-[2-(4-Benzooxazol-2-yl-phenyl)-vinyl]-phenyl}-5-methyl-benzooxazole
Benzoxazole, 2-(4-(2-(4-(2-benzoxazolyl)phenyl)ethenyl)phenyl)-5-methyl-
5-methyl-2,2'-(1,2-Ethenediyldi-4,1-phenylene)-Bisbenzoxazole
MFCD00328411
Benzoxazole, 2-[4-[2-[4-(2-benzoxazolyl)phenyl]ethenyl]phenyl]-5-methyl-
82-45-1
2-(4-{2-[4-(1,3-benzoxazol-2-yl)phenyl]ethenyl}phenyl)-5-methyl-1,3-benzoxazole
4-(2-Benzoxazolyl)-4'-(5-methyl-2-benzoxazolyl)stilbene
2-(4-(4-(Benzo[d]oxazol-2-yl)styryl)phenyl)-5-methylbenzo[d]oxazole
4-(Benzoxazol-2-yl)-4'-(5-methylbenzoxazol-2-yl)stilbene
Molecular Formula:
C29H20N2O2
Molecular Weight:
428.481
SPECIFICATIONS AND PHYSICAL CHARACTERISTICS
| | | |
| --- | --- | --- |
| TEST | UNIT | SPECIFICATION |
| APPEARANCE | | YELLOWISH GREEN CRYSTAL POWDER |
| MELTING POINT | ℃ | 275.00-280.00 |
| ASSAY | % | 99.00MIN |
| VOLATILES | % | 0.50MAX |

PRODUCT FEATURES AND APPLICATIONS
* KSN is an optical brightener in highly concentrated form for plastics and polyester fibers.
Benefits:
Optical brightener with high fastnesses
Produces very brilliant white effects with neutral to blue-violet shade and high light fastness
Outstanding migration resistance especially on LDPE
PACKAGE
25KG Fiber Drum
HANDLING AND STORAGE
Keep container tightly closed and dry and storage in cool place

Our company is a professional supplier of functional material additives. Our products include antioxidants, ultraviolet absorbers, light stabilizers, photoinitiators, heat stabilizers, nucleating agents, flame retardants, polyurethane chain extenders, nano light absorbing materials, antibacterial materials, functional masterbatches, colorants etc. After years of steadfast industry accumulation and technological innovation, a relatively complete additive industry chain has been formed in the rubber and plastic industry, ink industry, coating industry, textile printing and dyeing industry, functional resin and other industries. Significant achievements have been made in the field of additives.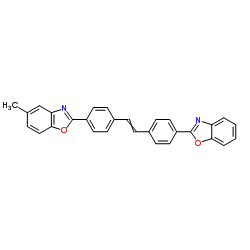 Related News: Featured APIs: Production capacity continues to expand, targeted patents expire. Original research drugs: industry entry barriers are high, performance stability and certainty are high.cyano-(4-dimethylamino-phenylimino)-acetic acid ethyl ester As you can see, a considerable number of staff is involved in the production phase until an API is finally manufactured.4-mercapto-4-methylpentan-2-one In addition, a high-standard GMP workshop is under construction and is expected to be put into production within the year. As the capacity bottleneck is broken, the pharmaceutical intermediate business is expected to grow rapidly in the future, providing the company with new growth momentum.1-(p-Methoxy-phenyl)-3-carbethoxyethyl-thioharnstoff Thousands of cases have been identified in China, including in every province of the country.Jo Soden, Co-managing Director of Retrogenix, said "We look forward to working with Resonant to deconvolute the targets for their antibodies. Resonant's innovative platform is delivering functional therapeutic candidates at rapid pace and we welcome the opportunity to identify the specific, biologically-relevant targets which will help progress these leads towards promising new therapies for patients with cancer."