We are Optical Brightener FP127 CAS:40470-68-6 manufacturer and supplier in China, Pls send inquiry of to info@nbinno.com of visit www.nbinno.com our official website should you have any interests

Synonyms:
4,4'-Bis[(E)-2-(2-methoxyphenyl)vinyl]biphenyl
1,1'-Biphenyl, 4,4'-bis(2-(2-methoxyphenyl)ethenyl)-
OPTICAL BRIGHTENER 378
Optical Brightener FP-127
Fluorescent Brightener FP
CSFC 127
4,4'-Bis(2-methoxystyryl)biphenyl
4,4'-Bis[2-(2-methoxyphenyl)vinyl]biphenyl
Benzene, 1,1'-[[1,1'-biphenyl]-4,4'-diyldi(E)-2,1-ethenediyl]bis[2-methoxy-
FBA 378
EINECS 254-935-6
Benzene, 1,1'-([1,1'-biphenyl]-4,4'-diyldi-2,1-ethenediyl)bis[2-methoxy-
Fluorescent Brightener FP-127
MFCD03425832
4,4'-bis-[(2-Methoxyphenyl)etheneyl] 1,1'-biphenyl
4,4'-Bis[(E)-2-(2-methoxyphenyl)vinyl]biphenyl
UVITEX FP
4,4'-bis[(E)-2-(2-methoxyphenyl)ethenyl]biphenyl
Molecular Formula:
C30H26O2
Molecular Weight:
418.526
SPECIFICATIONS AND PHYSICAL CHARACTERISTICS
| | | |
| --- | --- | --- |
| TEST | UNIT | SPECIFICATION |
| APPEARANCE | | LIGHT YELLOWISH POWDER |
| MELTING POINT | ℃ | 216.00-222.00 |
| ASSAY | % | 98.00MIN |
| FINENESS9(D50) | MESH | 300MIN |
| VOLATILITY | % | 0.5MAX |

PRODUCT FEATURES AND APPLICATIONS
* FP127 is especially suitable for brightening serial products of polyvinyl chloride and polystyrene, can be used in other hot plasticity plastics and coating, printing ink, synthetic fibers ,etc. for brightening and whitening.
-TPU
-PVC
-Fiber,Film and plate
-Coating, Varnish, colored coating, painting and ink
-Detergents
* FP127 has beneath properties
-Good thermal and light stability
-Soluble in most organic solvent and compatible with most polymers
-Increasing the whiteness and making a results of exceptional bright
PACKAGE
25KG DRUM
HANDLING AND STORAGE
Keep container tightly closed and dry and storage in cool place

Our company is a professional supplier of functional material additives. Our products include antioxidants, ultraviolet absorbers, light stabilizers, photoinitiators, heat stabilizers, nucleating agents, flame retardants, polyurethane chain extenders, nano light absorbing materials, antibacterial materials, functional masterbatches, colorants etc. After years of steadfast industry accumulation and technological innovation, a relatively complete additive industry chain has been formed in the rubber and plastic industry, ink industry, coating industry, textile printing and dyeing industry, functional resin and other industries. Significant achievements have been made in the field of additives.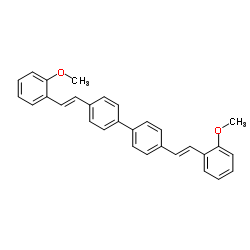 Related News: "No two studies are the same, and each carries its own unique risks and presents individual challenges, but the aim of CTSuccess is to use the experience we have as a company in supplying materials for thousands of trials to identify the characteristics of a project upfront and highlight potential risk factors that may arise," said Kristen Devito, Global Director, Catalent Clinical Supply Services.Pyrazinecarbonitrile, 6-[(acetyloxy)methyl]-3-amino-, 4-oxide That notice came two days after Chinese President Xi Jinping — a well known TCM advocate — called for the "combination of Chinese and Western medicine" in the diagnosis and treatment of the disease at a meeting of the Communist Party's Politburo Standing Committee, the country's supreme ruling body.4-(4-(benzyloxy)phenyl)-6-chloro-2-methylpyrimidine The move could force international drugmakers to further cut prices and enable copycat medicines to replace imported off-patent brands at faster pace.1-((2S,3S,5S,8R,9S,10S,13S,14S,16S,17R)-17-(butyryloxy)-10,13-dimethyl-3-((methylcarbamoyl)oxy)-2-(piperidin-1-yl)hexadecahydro-1H-cyclopenta[a]phenanthren-16-yl)-1-methylpiperidin-1-ium bromide The move could force international drugmakers to further cut prices and enable copycat medicines to replace imported off-patent brands at faster pace.From a global perspective, China's API companies have also performed well. According to the report of the American Transparent Medicine website, in 2016 the top ten pharmaceutical companies in the global API market, Chinese pharmaceutical companies accounted for 6 seats.