We are N,N-Dimethylaniline CAS:121-69-7 manufacturer and supplier in China, Pls send inquiry of to info@nbinno.com of visit www.nbinno.com our official website should you have any interests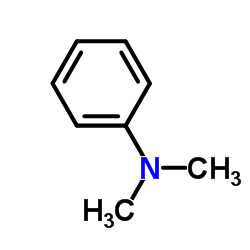 Synonyms:
N,N-Dimethylbenzeneamine
Aniline,N,N-dimethyl
phenyldimethylamine
N,N-Dimethylaniline
N,N-dimethyl-aniline
Benzenamine,N,N-dimethyl
Benzenamine, N,N-dimethyl-
N,N-Dimethylbenzenamine
dimethylphenylamine
N,N-Dimethylphenylamine
molecular formula: C8H11N
Molecular weight: 121.18000
Physical Properties:
Appearance and properties: light yellow to brown oily liquid, smell like amine
Density: 1.033 g/mL at 25 °C
Boiling point: 193-194 °C(lit.)
Melting point: 1.5-2.5 °C(lit.)
Flash point: 158 °F
Refractive index: n20/D 1.557(lit.)
Water solubility: 1 g/L (20 ºC)
Specification:
Items of Analysis
Standard of Analysis
Test Results
Appearance
Light yellow to yellow oily liquid
light yellow oily liquid
Dry product freezing point ℃
≥2.1
2.1
Purity%
≥99.6%
99.67%
N-methylaniline content%
≤0.3
0.22
Aniline content%
≤0.03
0.01
Moisture content%
≤0.10
0.04
Conclusion
Conform to the enterprise standard
Application:
1. One of the basic raw materials for the production of basic dyes (triphenylmethane dyes, etc.) and basic dyes. The main varieties are basic bright yellow, basic purple 5BN, basic green, basic lake blue, and brilliant red 5GN , Bright Blue, etc. N,N-Dimethylaniline is used in the pharmaceutical industry to manufacture cephalosporin V, sulfonamide-b-methoxypyrimidine, sulfa-o-dimethoxypyrim, fluorosporine, etc., and in the perfume industry for the manufacture of vanillin Wait.
2. Used as analytical reagent
3. Used in the manufacture of spices, pesticides, dyes, explosives, etc.
4. This product is an important dye intermediate. It can be used to prepare basic bright yellow, basic violet 5BN, basic magenta green, basic lake blue BB, basic brilliant blue R, cationic red 2BL, brilliant red 5GN, violet 3BL, brilliant blue, etc. In the pharmaceutical industry, the product can be used to manufacture cephalosporin V, sulfa-b-methoxypyrimidine, sulfa-o-dimethoxypyrimidine, flucytosine, etc. It can be used to produce vanillin in the fragrance industry. It can also be used as a solvent, rubber vulcanization accelerator, explosives and raw materials for some organic intermediates.
5. Determination of methanol, methyl furan formaldehyde, hydrogen peroxide, nitrate, ethanol, formaldehyde and tertiary amines, colorimetric determination of nitrite, etc., solvents, manufacture of vanillin, methyl violet, Michler's ketone and other dyes . Also used in new processes for symmetrical and asymmetrical light conductors.
Package and Storage:
Packed in galvanized iron drums, net weight 240 kg per drum, stored at room temperature.

Market News:He said it is "normal" for scientists and clinicians to discuss and debate data from experiments and clinical trials, but added those discussions have taken a turn "outside the boundaries of legitimate scientific deliberation." (E)-methyl 5-formylpent-4-enoate manufacturer."We welcome a formal review into the interactions between the FDA and Biogen on the path to the approval of aducanumab," Sandrock said. "A better understanding of the facts is good for everyone involved to assure confidence in both the therapy and the process by which it was approved as we prioritize the issues that affect patients." 1-(3′-O-benzoyl-2′-deoxy-1′,2′-seco-D-ribosyl)thymine supplier.After recently opening one cell therapy plant and breaking ground on another in Massachusetts, Takeda is pivoting westward to beef up production in California. 5-Methyl-3,5-bis-(trimethylsiloxy)-hepten-(2) producer.