We are N,N-Diethylhydroxylamine CAS:3710-84-7 manufacturer and supplier in China, Pls send inquiry of to info@nbinno.com of visit www.nbinno.com our official website should you have any interests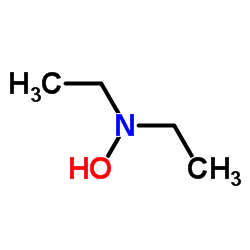 Synonyms:
N,N-Diethylhydroxylamine
N-DiethylhydroxylaMine
N,N-diethyl-hydroxylamine
Ethanamine, N-ethyl-N-hydroxy-
pennstop,anhydrous
Diethylhydroxyamine
N-Hydroxydiethylamine
N,N-Diethylhydroxyla
pennstop
Pennstop 1866
DEHA
DIETHYL HYDROXYLAMINE
ethylhydroxyethylamine
N-ethyl-N-hydroxyethylamine
molecular formula: C4H11NO
Molecular weight: 89.13620
Physical Properties:
Appearance and properties: light yellow liquid
Density: 0.902 g/mL at 25 °C
Boiling point: 125-130 °C
Melting point: −26-−25 °C(lit.)
Flash point: 115 °F
Refractive index: n20/D 1.420(lit.)
Specification:
Appearance: colorless to light yellow transparent liquid
Content (% min) 85 95 98
Moisture (% max) 15 5 2
Diethylamine (% max) 1.0 0.5 0.3
Color value (Pt/Co max ) 70 70 70
Application:
1. As a vinyl monomer, it is an efficient polymerization inhibitor for conjugated olefins.
2. It can be used as a high-efficiency terminal polymerization inhibitor in the case of existing terminal polymerization seeds in liquid or gas phase.
3. It is an excellent terminator for styrene-butadiene emulsion polymerization.
4. It is an antioxidant for unsaturated oils and resins.
5. It is a good stabilizer for photosensitive resin, photosensitive emulsion and synthetic resin.
6. It is a good photochemical smog inhibitor in environmental protection.
7. It is a corrosion inhibitor for boiler feed water and steam heat exchange equipment.
Package and Storage:
170 kg plastic or 170 steel-plastic composite drum

Market News:The collaborative research and exclusive license agreement inked in December didn't have a price tag, but the two companies revealed the eye-popping figure Tuesday that includes an undisclosed upfront payment to PeptiDream and other cash drops subject to certain clinical milestones. 2-[[(2R,3S,5R)-5-(5-ethenyl-2,4-dioxopyrimidin-1-yl)-3-hydroxyoxolan-2-yl]methoxy-hydroxyphosphoryl]acetic acid manufacturer.About eight months after originally teaming up on neuromuscular diseases, Takeda and PeptiDream have expanded the pact to include several central nervous system targets, while revealing the tie-up could be worth more than $3.5 billion. 2′,3′-cyclic UMP supplier.Overall, Wang confirmed that AZ can still grow its China business at low double digits in the second half of the year, but the company declined to offer an outlook for 2022. 1-[9-(4-chlorophenyl)-8-(2-fluorophenyl)-2-methyl-9H-purin-6-yl]-4-isopropylaminopiperidine-4-carboxylic acid amide producer.