We are Neotame CAS:165450-17-9 manufacturer and supplier in China, Pls send inquiry of to info@nbinno.com of visit www.nbinno.com our official website should you have any interests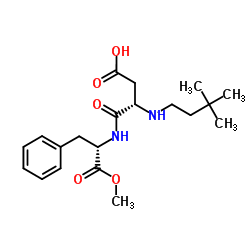 Product Description:
Product Name: Neotame CAS NO: 165450-17-9
Synonyms:
N-(3,3-dimethylbutyl)-L-aspartyl-L-phenylalanine methyl ester;
(S)-3-((3,3-Dimethylbutyl)amino)-4-(((S)-1-methoxy-1-oxo-3-phenylpropan-2-yl)amino)-4-oxobutanoic ac;
Neotame;
(3S)-3-(3,3-dimethylbutylamino)-4-[[(2S)-1-methoxy-1-oxo-3-phenylpropan-2-yl]amino]-4-oxobutanoic acid;
Chemical & Physical Properties:
Appearance: White or off-white crystalline powder
Assay :≥99.00%
Density: 1.133 g/cm3
Boiling Point: 565.3℃ at 760 mmHg
Melting Point: 80.9-83.4℃
Flash Point: 295.7℃
Refractive Index: 1.521
Vapor Pressure: 1.29E-13mmHg at 25℃
Safety Information:
HS Code: 2924299090
Neotame is an artificial sweetener made by NutraSweet that is between 7,000 and 13,000 times sweeter than sucrose (table sugar). In the European Union, it is known by the E number E961. It is moderately heat-stable, extremely potent, rapidly metabolized, completely eliminated, and does not appear to accumulate in the body.
The major metabolic pathway is hydrolysis of the methyl ester by esterases that are present throughout the body, which yields de-esterified neotame and methanol. Because only trace amounts of neotame are needed to sweeten foods, the amount of methanol derived from neotame is much lower than that found in common foods.
The product is attractive to food manufacturers, as its use greatly lowers the cost of production compared to using sugar or high fructose corn syrup (due to the lower quantities needed to achieve the same sweetening), while also benefitting the consumer by providing fewer "empty" sugar calories and a lower impact on blood sugar.
If you are interested in our products or have any questions, please feel free to contact us!
Products under patent are offered for R & D purpose only. However, the final responsibility lies exclusively with the buyer.

Related Products:benzyl 5-chloro-5-oxopentanoate manufacturer | (R)-3-(2-carboxyethyl)-5-((3-ethyl-4-methyl-5-oxo-2,5-dihydro-1H-pyrrol-2-yl)methyl)-4-methyl-1H-pyrrole-2-carboxylic acid supplier | ferrocenecarboxylic acid-crown ether conjugate producer.