We are methyl (s)-(-)-lactate CAS:27871-49-4 manufacturer and supplier in China, Pls send inquiry of to info@nbinno.com of visit www.nbinno.com our official website should you have any interests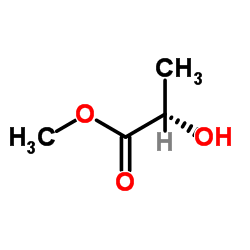 methyl (s)-(-)-lactate cas 27871-49-4 manufacturer supply
Chemical Name: Methyl (S)-(-)-lactate
CAS NO.: 27871-49-4
Molecular Formula: C4H8O3
Molecular Weight: 104.1
Appearance:Colorless clear liquid
Assay:≥98.0%
Category: Solvent
Description
Methyl L-Lactate
Chemical Name: Methyl (S)-(-)-lactate
CAS NO.: 27871-49-4
Molecular Formula: C4H8O3
Molecular Weight: 104.1
Appearance:Colorless clear liquid
Assay:≥98.0%
Methyl (S)-(-)-lactate Typical Properties
| | |
| --- | --- |
| Item | Specifications |
| Appearance | Colorless clear liquid |
| Assay | ≥98.0% |
| Acidvalue mg(KOH)/g | ≤3.0 |
| Relative density(25℃/25℃) | 1.08-1.10 |
| Refractive index(20℃) | 1.410~1.418 |
| Moisture | ≤0.5% |
| Methanol | ≤0.5% |
Methyl (S)-(-)-lactate Usage
1. Methyl lactate is a colorless clear liquid, completely miscible with water and most organic liquids.
2. It is considered as a green solvent as it is easily biodegradable. It is a solvent for nitrocellulose, cellulase acetate, cellulase acetobutyrote and cellulase acetaprapionate.
3. It is used in the manufacture of lacquers and dopes where it contributes high tolerance for diluents, good flaw and blush resistance.
Methyl (S)-(-)-lactate Packaging and Shipping
Blue steel Drum, Net weight: 200kgper drum.
Methyl (S)-(-)-lactate Storage
The warehouse is ventilated and dried at low temperature; stored separately from the oxidant.

Related Products:6-allyloxy-7-benzyloxy-8-methoxy-2-phenyl-hexahydro-pyrano[3,2-d][1,3]dioxine manufacturer | N'-[3-(azacyclohexadec-3-yl)propyl]propane-1,3-diamine supplier | (S)-2-((9S,12S,15S,18S)-1-(2-aminophenyl)-9-benzyl-15-((R)-1-hydroxyethyl)-18-(hydroxymethyl)-12-isobutyl-1,4,7,10,13,16-hexaoxo-2,5,8,11,14,17-hexaazanonadecan-19-amido)-N1-(2-((2,4-dinitrophenyl)amino)ethyl)pentanediamide producer.