We are Methyl-5-norbornene-2,3-dicarboxylic anhydride CAS:25134-21-8 manufacturer and supplier in China, Pls send inquiry of to info@nbinno.com of visit www.nbinno.com our official website should you have any interests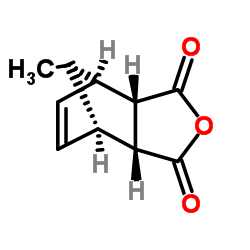 Synonyms:
Methyl-3,6-endomethylenetetrahydrophthalic Anhydride
EINECS 246-644-8
Methendic anhydride
Kayahard MCD
XMNA
Methylendic anhydride
Methyl nadic anhydride
Methylnadic Anhydride

molecular formula: C10H10O3
Molecular weight: 178.18500

Physical Properties:
Appearance and Properties: Colorless to pale yellow viscous liquid
Density: 1.232 g/mL at 25 °C(lit.)
Boiling point: 140°C (10 mmHg)
Flash Point: >230 °F
Refractive index: n20/D 1.506(lit.)

Specification:
Items of Analysis
Standard of Analysis
Test Results
Appearance
Light yellow liquid
Conform
Viscosity
170-300
275
Content
≥98%
99.0%
Freezing Point
≤-15℃
<-15℃
Specific Gravity
1.20-1.25
1.24
Conclusion
Conforms to Factory Standard


Application:
1: Mainly used for epoxy resin curing agent, the reference amount is 80-85 parts, after adding 0.5 part of tertiary amine (BDMA), there is still a 2-month pot life under asphyxiating temperature. Curing bar 100℃/2h+150℃/4h or 120℃/6h+180℃/lh or 90℃/2h+120℃/2h+160℃/lh. The cured product is light in color, small in shrinkage and excellent in electrical properties. Good chemical resistance and high temperature resistance, but poor alkali resistance and strong solvent resistance. The heat distortion temperature is 150~175℃. The maximum operating temperature is 163℃.
2: Used as a curing agent for epoxy resin, FRP/FWP, etc. in the insulation fields of generators, automotive motors, transformers, rotors, etc.

Package and Storage:
25KG
1kg 25kg 200kg

Market News:So, the company's latest announcement is wonderful news," according to the California Institute for Regenerative Medicine, or CIRM, which helped fund development of the treatment.
"This means that UCLA will now be able to begin the process of applying to the Food and Drug Administration for permission to start an expanded use protocol to treat patients," CIRM CEO Maria Millan said in a May 28 statement.
UCLA scientist Donald Kohn, who developed the therapy, told the Los Angeles Times that he will start the FDA process for compassionate use as soon as possible. UCLA and UCL will also seek a new commercial partner, Kohn said.
Coyle replaced former CEO Kevin King, who was with the company for nine years, having previously worked for Medtronic as the executive vice president and president of the cardiovascular portfolio. Coyle said shortly after taking over that his international experience with Medtronic will help iRhythm as the company expands into new markets.
However, Coyle's brief tenure was defined by the Medicare pricing saga with Novitas Solutions, a Medicare Administrative Contractor.
After CMS did not set a national price for long-term cardiac monitoring last December, the decision for price-setting was then passed on to the MACs.
Novitas originally posted rates for extended cardiac monitoring between $40-$50 in late January, well below the historical $311 range.
The drastically cut rates shook industry and Wall Street analysts, and the company's stock price dropped by nearly 33% the day of the announcement.
During his first earnings call in February, Coyle said that iRhythm met with Novitas to talk about different pricing methodologies. However, Coyle was unable to say when, or if, any changes would be made.
The pricing challenges created uncertainty for a market that Wall Street analysts were consistently bullish on amid a trend of growing wearables use.
The space even saw a flurry of deals where nearly all of iRhythm's competition was bought up by large medtechs like Philips and Boston Scientific.
Novitas ultimately set rates for shorter-term and longer-term cardiac monitoring at $103 and $115 in April, respectively, approximately one-third of historical rates.
Coyle said on a company call that the new rates were below the costs to provide the services and higher rates would need to be set, either through another Novitas adjustment or, once again, trying to get national pricing through CMS.
Throughout the Novitas saga, iRhythm's stock price dropped from $252.65 Jan. 29 to $62 when the market opened Wednesday.
iRhythm said Coyle's decision to resign will not impact the reimbursement strategy going forward — the company will still pursue higher rates through Novitas, other MACs and CMS.
Analysts were surprised by Coyle's resignation.
Truist Securities analysts wrote that during a call with iRhythm management following the announcement, the company "made clear multiple times in our conversation that there have not been any notable developments since its earnings call (which was held in early May) related to reimbursement. 1-(2-Hydroxymethyl-pyrrolidin-1-yl)-1-methyl-3-phenyl-thiourea manufacturer.A multitude of enzymes is now utilized for generating active pharmaceutical ingredients (APIs) and intermediates for their production, with such reagents offering numerous advantages compared to using traditional metal catalysts. 4-[5-(3-Piperidin-1-yl-propyl)-[1,2,4]oxadiazol-3-yl]-benzenesulfonamide; hydrochloride supplier.Tánaiste and Minister for Enterprise, Trade and Employment, Leo Varadkar TD welcomed the announcement, saying: "I'm really pleased that Ballina will play such an important role in the production of COVID-19 vaccines, which have saved millions of lives around the world. 9H-Fluorene, 3,6-dibromo-9,9-dihexyl- producer.