We are Levamisole hydrochloride CAS:16595-80-5 manufacturer and supplier in China, Pls send inquiry of to info@nbinno.com of visit www.nbinno.com our official website should you have any interests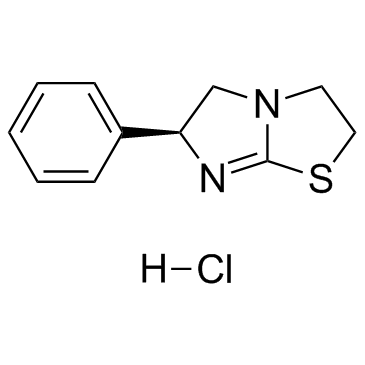 Synonyms:
Levamisole hydrochloride
(-)-Tetramisole Hydrochloride
Imidazo[2,1-b]thiazole, 2,3,5,6-tetrahydro-6-phenyl-, monohydrochloride, L-(-)-
Levamisole Hydrochloride
Levamisol hydrochloride
(-)-2,3,5,6-Tetrahydro-6-phenylimidazo[2,1-b]thiazole Hydrochloride
(S)-6-Phenyl-2,3,5,6-tetrahydroimidazo[2,1-b]thiazole hydrochloride
Molecular Formula: C11H13ClN2S
Molecular weight: 240.75200
Physical Properties:
Appearance and properties: white to almost white crystalline powder
Boiling point: 344.4ºC at 760 mmHg
Melting point: 226-231ºC
Flash point: 162.1ºC
Stability: Stable under normal temperatures and pressures. Light sensitive.
Specification:
Items of Analysis
Standard of Analysis
Test Results
Appearance
White or almost white crystalline powder
White crystalline powder
Identification
IR
Conform
Solution
The solution is clear, and has no more intense color than the Matching Fluid
Conform
Melting point
226~231℃
227~229℃
Light absorption
≤0.20
0.004
Specific rotation
-121.5°~ -128.0°
-123.6°
pH
3.0~4.5
4.2
Loss on drying
≤0.5%
0.06%
Residue on ignition
<0.1%
0.03%
Any individual impurity
≤0.5%
<0.5%
Total impurities
≤1.0%
<1.0%
Ethanol
≤5000ppm
N.D
Acetone
≤5000ppm
N.D
Assay (dry basis)
98.5%~101.0%
99.6%
Particle size
Dv(90)≤800μm
579μm
Conclusion
The above mentioned product conforms to current USP
Application:
Levamisole hydrochloride is an insect repellant and immunomodulator.
Package and Storage:
0-6ºC。

Market News:About eight months after originally teaming up on neuromuscular diseases, Takeda and PeptiDream have expanded the pact to include several central nervous system targets, while revealing the tie-up could be worth more than $3.5 billion. (S)-2-Benzenesulfonyl-4-benzyloxy-1,4-bis-[(2S,5S,2'S,5'S)-5′-(tert-butyl-diphenyl-silanyloxymethyl)-octahydro-[2,2′]bifuranyl-5-yl]-butan-1-one manufacturer."Alcami supported this product with supply constraints and successfully developed a capsule formulation for two dosage strengths," she explains. "The formulations group performed studies at a micro-laboratory scale using a scientifically-based approach to identify a lead prototype. 1-(2-chloro-4-trifluoromethoxy-phenyl)-4-nitro-5-propionylamido-pyrazole supplier.The Plexxikon patents are for compounds that reduce cancer cell growth by blocking V600E mutated BRAF. Patents were filed as early as 2005. Acetic acid (R)-2,2-di-tert-butyl-3-methyl-[1,2]oxasilolan-5-yl ester producer.