We are Iron trichloride hexahydrate CAS:10025-77-1 manufacturer and supplier in China, Pls send inquiry of to info@nbinno.com of visit www.nbinno.com our official website should you have any interests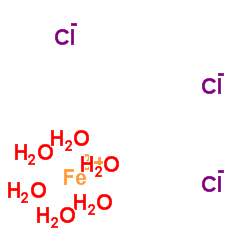 Synonyms:
Iron trichloride hexahydrate
Ferric chloride hexahydrate
Iron(III) chloride (hydrate)
Iron(III) chloride hexahydrate
iron(3+),trichloride,hexahydrate
Molecular Formula: Cl3FeH12O6
Molecular weight:
270.29600
Physical Properties:
Appearance and properties: yellow or orange lumps
Density: 1,82 g/cm3
Boiling point: 280-285 °C(lit.)
Melting point: 37 °C (lit.)
Flash point: 280-285°C
Water solubility: 920 g/L (20 ºC)
Stability: Stable. Incompatible with strong oxidizing agents. Forms explosive mixtures with sodium and potassium. Hygroscopic.
Specification:
Items of Analysis
Standard of Analysis
Test Results
Appearance
Yellow-orange sand form solid
Conform
Assay
≥98.0%
98.7%
Insoluble in water
≤0.01%
0.004%
Free acid (HCl)
≤0.1%
0.09%
Sulphate (SO42-)
≤0.01%
<0.01%
Nitrate (NO3–)
≤0.01%
0.007%
Phosphate (PO43-)
≤0.01%
<0.01%
Conclusion
Conforms to Factory Standard
Application:
1. Mainly used as water treatment agent, corrosive agent for printing and plate making, oxidant and mordant in dye industry, catalyst for organic synthesis and manufacture of other iron salts, etc.
2. Nutritional supplements (iron fortifiers). For infant milk powder, weaning food, etc.
3. Analytical reagents for the determination of arsenic, lithium, tin, selenium, vanadium, thiocyanate, ferricyanate and serum total cholesterol, etc., industrially used for photoengraving, pigments and catalysts, etc., oxidizing agents.
Package and Storage:
Airtight and dark at room temperature, ventilated and dry place; equipment should be sealed.

Market News:Charles River looks forward to continuing its ongoing partnership with AstraZeneca. It was great to join the team today, to see the facility for myself and congratulate them on this really significant expansion, which will see an €8m investment, creating 90 new jobs for Mayo. 1,4-bis(5,7-bis(1-methylcyclohexyl)benzo[d]oxazol-2-yl)butane manufacturer."The acquisition of Vanamali Organics represents the next stage of this investment strategy," Wavelength CEO Iftach Seri said in a statement. " We are delighted to add their talented team and advanced development and manufacturing capabilities to Wavelength, and we expect they will be important contributors to our global supply chain network and our rapidly growing custom development and manufacturing services business." (R)-2-((5-(((S)-1-amino-4-methyl-1-oxopentan-2-yl)amino)-2,4-dinitrophenyl)amino)-5-ureidopentanoic acid supplier.Results from a Phase I clinical trial, published in The Lancet, found that two-doses of the inhaled Ad5-nCoV vaccine can trigger a similar immune response to a single-dose of the injected version. 6-Isoquinolinol, decahydro-5,8a-dimethyl-2-(phenylmethyl)- producer.