We are Hydroxyprogesterone Caproate CAS:630-56-8 manufacturer and supplier in China, Pls send inquiry of to info@nbinno.com of visit www.nbinno.com our official website should you have any interests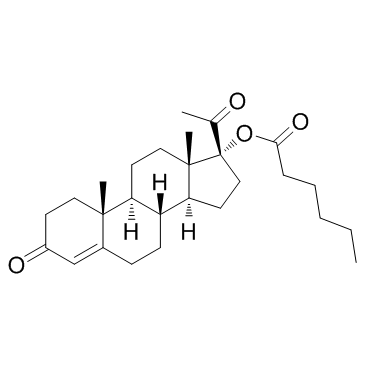 Product Description:
Product Name: hydroxyprogesterone caproate CAS NO: 630-56-8
Synonyms:
[(8R,9S,10R,13S,14S,17R)-17-acetyl-10,13-dimethyl-3-oxo-2,6,7,8,9,11,12,14,15,16-decahydro-1H-cyclopenta[a]phenanthren-17-yl] hexanoate;
Hexanoic acid, ester with 17-hydroxypregn-4-ene-3,20-dione (8CI);
17α-Hydroxyprogesterone hexanoate;
Chemical & Physical Properties:
Appearance: White or almost White Crystalline power
Assay :≥99.0%
Density: 1.1 g/cm3
Boiling Point: 536.4℃ at 760 mmHg
Melting Point: 119℃
Flash Point: 227.6℃
Refractive Index: 1.533
Safety Information:
RTECS: TU5085000
Safety Statements: S53-22-36/37/39-45
WGK Germany: 3
Risk Statement: R61
Hazard Code: T
Hydroxyprogesterone caproate (OHPC) (INN, USAN, JAN) (brand names Delalutin, Proluton, Makena, Prodrox, Hylutin, many others), also known as hydroxyprogesterone hexanoate (BANM), is a steroidal progestin and derivative of 17α-hydroxyprogesterone (17α-OHP) that is related to other 17α-OHP derivatives such as chlormadinone acetate, cyproterone acetate, medroxyprogesterone acetate, and megestrol acetate. It is an ester of 17α-OHP formed from caproic acid (hexanoic acid).
OHPC was previously marketed under the trade name Delalutin by Squibb, which was approved by the United States (U.S.) Food and Drug Administration (FDA) in 1956 and withdrawn from marketing in 1999. It is also sold as Proluton throughout Europe. The U.S. FDA approved Makena from KV Pharmaceutical (previously named as Gestiva) on February 4, 2011 for prevention of preterm delivery in women with a history of preterm delivery, sparking a pricing controversy.
If you are interested in our products or have any questions, please feel free to contact us!
Products under patent are offered for R & D purpose only. However, the final responsibility lies exclusively with the buyer.

Related Products:(2S,3R)-2-Methyl-3-((1R,2R)-1-methyl-2-triethylsilanyloxy-pentyl)-2-triethylsilanyloxymethyl-oxirane manufacturer | (4,6-dimethyl-pyridin-2-yl)-dipropyl-amine supplier | endo-3-ethyl-2-thiabicyclo(2.2.1)hept-5-ene 2,2-dioxide producer.