We are Favipiravir CAS:259793-96-9 manufacturer and supplier in China, Pls send inquiry of to info@nbinno.com of visit www.nbinno.com our official website should you have any interests

We supply non-GMP Favipiravir APIs and intermediates
Favipiravir, also known as T705, or Avigan, is a pyrazinecarboxamide derivative with activity against RNA viruses. It is a selective inhibitor of viral RNA-dependent RNA polymerase with activity against many RNA viruses, influenza viruses, West Nile virus, yellow fever virus, foot-and-mouth disease virus as well as other flaviviruses, arenaviruses, bunyaviruses and alphaviruses. Activity against enteroviruses and Rift Valley fever virus has also been demonstrated. The mechanism of its actions is thought to be related to the selective inhibition of viral RNA-dependent RNA polymerase. Favipiravir(T-705) does not inhibit RNA or DNA synthesis in mammalian cells and is not toxic to them. In 2014, favipiravir was approved in Japan for stockpiling against influenza pandemics.
Product Name: Favipiravir (T-705)
Synonyms: T705; T-705; T 705; Avigan; Favipiravir
Chemical Name: 6-Fluoro-3-hydroxy-2-pyrazinecarboxamide;5-fluoro-2-oxo-1H-pyrazine-3-carboxamide;
Pyrazinecarboxamide, 6-fluoro-3,4-dihydro-3-oxo- (9CI);
Purity: ≥98%
CAS Number: 259793-96-9
Molecular Formula: C5H4FN3O2
Molecular Weight: 157.104
Monoisotopic Mass: 157.029 g/mol
MDL number: MFCD12032148
InChIKey:
ZCGNOVWYSGBHAU-UHFFFAOYSA-N
InChi Code: InChI=1S/C5H4FN3O2/c6-2-1-8-5(11)3(9-2)4(7)10/h1H,(H2,7,10)(H,8,11)
SMILES: O=C(C1=NC(F)=CN=C1O)N
Appearance: White Powder
Solubility: Soluble in DMSO, not in water
Shelf life: ≥ 2 years
Handling: Avoid contact with skin and eyes. Avoid formation of dust and aerosols. Provide appropriate exhaust ventilation at places where dust is formed
Ningbo Inno Pharmchem Co., Ltd. is a high-tech chemical company integrating R & D, production, and operation. The manufacturing bases in Europe and Asia are equipped with 500mL-3000L reactors, supporting the formation of advanced flexible chemical synthesis systems to produce a variety of drugs. Products commonly used in the synthesis field; in order to support the majority of pharmaceutical factories and scientific researchers to fight the epidemic, we are stepping up production and providing products required for fapilavir synthesis.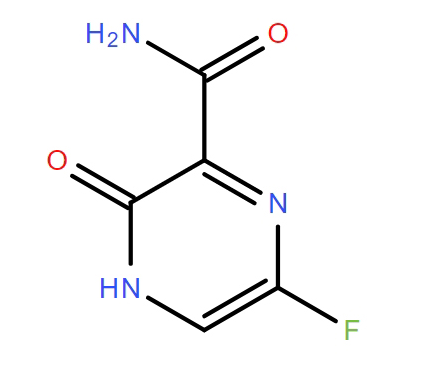 Related News: At ASH, scientists from the Company and MSK presented new in vivo preclinical data demonstrating that FT819 exhibits durable tumor control and extended survival.5-Fluoro-2-hydroxypyridine Advanced clinical trials with the Company's lead compound, rigosertib, are aimed at what the Company believes are unmet medical needs of patients with MDS.4-Aminobenzonitrile CAS:873-74-5 This time frame optimizes the opportunity to respond to treatment with an HMA prior to declaring treatment failure, as per NCCN Guidelines. Patients are randomized at a 2:1 ratio into two study arms: IV rigosertib plus Best Supportive Care versus Physician's Choice plus Best Supportive Care.110-78-1 Subsequently, the company launched the drug under the brand names 'Remo' and 'Remozen'.Subsequently, the company launched the drug under the brand names 'Remo' and 'Remozen'.