We are Favipiravir CAS:259793-96-9 manufacturer and supplier in China, Pls send inquiry of to info@nbinno.com of visit www.nbinno.com our official website should you have any interests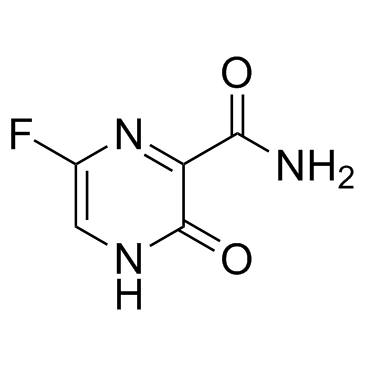 Product Description
Product Name: Favipiravir CAS NO:259793-96-9
Synonyms:
6-fluoro-3-hydroxypyrazine-2-carboxaMide;
6-fluoro-3-oxo-3,4-dihydropyrazine-2-carboxamide;
2-Pyrazinecarboxamide,6-fluoro-3-hydroxy;
6-fluoro-3-hydroxy-2-pyrazinecarboxamide;
Chemical & Physical Properties
Appearance : Off-white Powder
Assay : ≥99%
Density:1.78g/cm3
Boiling Point:552.6℃ at 760 mmHg
Flash Point:288℃
Favipiravir, also known as T-705 or Avigan, is an experimental antiviral drug being developed by Toyama Chemical of Japan with activity against many RNA viruses. Like some other experimental antiviral drugs (T-1105 and T-1106), it is a pyrazinecarboxamide derivative. Favipiravir is active against influenza viruses, West Nile virus, yellow fever virus, foot-and-mouth disease virus as well as other flaviviruses, arenaviruses, bunyaviruses and alphaviruses. Activity against enteroviruses and Rift Valley fever virus has also been demonstrated.
The mechanism of its actions is thought to be related to the selective inhibition of viral RNA-dependent RNA polymerase. Other research suggests that favipiravir induces lethal RNA transversion mutations, producing a nonviable viral phenotype. Favipiravir is a prodrug and is metabolized to its active form, favirpiravir-RTP, following digestion. Human hypoxanthine guanine phosphoribosyltransferase (HGPRT) is believed to play a key role in this activation process. Favipiravir does not inhibit RNA or DNA synthesis in mammalian cells and is not toxic to them.
In 2014, favipiravir was approved in Japan for stockpiling against influenza pandemics.
If you are interested in our products or have any questions, please feel free to contact us!
Products under patent are offered for R & D purpose only. However, the final responsibility lies exclusively with the buyer.

Related Products:2-(4-chlorophenyl)-9-fluoro-6-methyl-1,6-dihydro-7H-benzo[h]imidazo[4,5-f]isoquinolin-7-one manufacturer | 3(2-methoxy-phenyl)-5-oxo-hexanoic acid supplier | 3-(cyanomethyl)-2-methyl-8-((phenylmethyl)thio)imidazo(1,2-a)pyridine producer.