We are Ethylene glycol monohexyl ether CAS:112-25-4 manufacturer and supplier in China, Pls send inquiry of to info@nbinno.com of visit www.nbinno.com our official website should you have any interests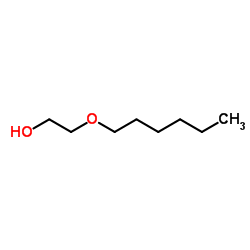 Synonyms:
Ethylene glycol monohexyl ether
Ethanol, 2-(hexyloxy)-
Hexyl Cellosolve
2-(HEXYLOXY)ETHANOL
2-(Hexyloxy)ethanol C6E1 Hexylglycol
Ethylene Glycol Monohexyl Ether
molecular formula: C8H18O2
Molecular weight: 146.22700
Physical Properties:
Appearance and properties: transparent liquid
Density: 0.888 g/mL at 20 °C(lit.)
Boiling point: 98-99°C 0,15mm
Melting point: -45.1ºC
Flash point: 98-99°C/0.15mm
Refractive index: n20/D 1.431
Specification:
Appearance: Colorless Clear Liquid
Content, GC%Wt ≥98.0
Acidity,%Wt.(calculated as acetic acid) ≤0.01
Moisture,%Wt ≤0.15
Chroma, Hazen unit (platinum-cobalt color number) ≤15
Application:
Ethylene glycol hexyl ether series are mainly used as solvents for cleaning fluids, paints, coatings and ink preparations. Glycol hexyl ether has excellent oil solubility, making it effective in household and industrial cleaning applications. Ethylene glycol hexyl ether is used as a coalescing agent for water-based latex-based coatings and plays an important role in specialty printing inks, including screen printing processes, where its limited water solubility and slow evaporation rate prevent premature ink settling . Two solvents, ethylene glycol hexyl ether and diethylene glycol hexyl ether, are potential replacements for halogenated hydrocarbons in non-vapor degreasing applications.
Package and Storage:
25kgs/200KGdrum


Market News:As of June's end, there have been 100 reported GBS cases among J&J recipients, most of whom were hospitalized and one person has died, CDC officials reported. Most cases were seen in older men within 13 days following the single-dose vaccine. 4-Methylene-2-(5,5,8,8-tetramethyl-5,6,7,8-tetrahydro-naphthalen-2-yl)-cyclopentane-1,1-dicarboxylic acid dimethyl ester manufacturer.The company's greenfield facility in Vasanthnarsapura Karnataka Industrial Area, Tumkur district, Karnataka, is under construction and is expected to be commissioned by April, 2022, well before the PLI scheme deadline of April 1, 2023. (Z)-3-(3-Bromo-phenyl)-3-hydroxy-dithioacrylic acid supplier.Professor Xiangdong Cheng, secretary of party committee of Cancer Hospital of the University of Chinese Academy of Sciences (Zhejiang Cancer Hospital) and Chief of Zhejiang Province Upper Gastrointestinal Tumor Diagnosis and Treatment Technology Research Center, stated: The progress of immunotherapy in certain types of colorectal cancer and gastric cancer has not been satisfactory compared with the progress of anti-PD-1 monoclonal antibodies in melanoma, lung cancer and esophageal cancer, and this needs further exploration.
TIGIT is highly expressed in gastric cancer. And pre-clinical experiments have proved that synergistically targeting PD-1 and TIGIT could significantly repress gastric tumor growth. We look forward to the clinical results of IBI321, particularly in GI tumors.
Dr. Hui Zhou, Senior Vice President of Clinical Development of Innovent, stated: "By specifically targeting both PD-1 and TIGIT, this type of bispecific antibody is designed to provide synergistic effects by blocking both the PD-1/PD-L1 and TIGIT/CD155 pathways – with the goal of improving the anti-cancer efficacy.
Currently, there is no bispecific antibody that has same target as IBI321 in clinical-stage development worldwide. Preclinical studies of IBI321 have demonstrated that the combination of these two monoclonal antibodies further enhanced the immune activation with improved convenience of administration.
Therefore, the development of an anti-PD-1/TIGIT bispecific antibody has the potential to provide patients with more effective and convenient treatment. We look forward to hope that IBI321 will benefit more patients. [6,15-bis-13C]-ethyl 3,7,11-trimethyldodeca-2(E),6(E),10-trienoate producer.