We are Ethylene glycol CAS:107-21-1 manufacturer and supplier in China, Pls send inquiry of to info@nbinno.com of visit www.nbinno.com our official website should you have any interests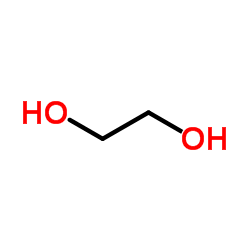 Synonyms:
1,2-dihydroxy ethane
Ethane-1,2-diol
1,2-Ethanediol
1,2-Dihydroxyethane
2-hydroxy ethanol
Molecular Formula:
C2H6O2
Molecular weight:62.06780
Appearance and Properties: Transparent viscous liquid
Density: 1.220 g/mL at 25 °C
Boiling point: 196-198 °C(lit.)
Melting point: -13 °C(lit.)
Freezing point: -11.5℃
Flash point: 230 °F
Refractive index: n20/D 1.431(lit.)
Water solubility: miscible
Stability: Stable at room temperature in closed containers under normal storage and handling conditions.
Storage conditions: warehouse ventilated and dry at low temperature
Items of Analysis
Standard of Analysis
Test Results
Appearance
Clear ,Colorless
Conform
Specific gravity
1.1151-1.1156
1.1154
Content
≥99.9%
99.95%
Water
≤0.1%
0.01%
Distillation Range
5 vol%
≥196.5℃
197.2℃
95 vol%
≤199.0℃
197.5℃
Color
≤5
2
Acidity(as acetic acid)
≤10 ppm
5.39 ppm
Iron
≤0.1 ppm
0.003 ppm
Aldehydes(as formaldehyde)
≤10 ppm
0.61 ppm
Chlorides(as Cl)
≤0.5 ppm
0.03 ppm
Ash
≤10 ppm
2.71 ppm
UV Transmittance
220 nm
≥70%
95.15%
275 nm
≥90%
99.01%
350 nm
≥98%
100.89%
Conclusion
Conforms to Factory Standard

Market News:providing support for flexible, cross-sector training programmes to encourage more movement and collaboration between academia, industry and the charity sector 3-[[4-(dimethylamino)naphthalen-1-yl]diazenyl]-4-methoxybenzenesulfonic acid manufacturer.As currently constituted, Vanamali employs roughly 140 works in Hyderabad, Telangana, that specialize in API starting materials and contract research, according to its website. Wavelength said the Indian firm currently sports enough capacity for research- to commercial-scale production of its drug intermediates. ethyl 2-[2-(4-oxocyclohexa-2,5-dien-1-ylidene)-3H-1,3-thiazol-4-yl]acetate supplier.Biocatalytic processing offers many advantages over using conventional metal catalysts. The superior enantio- and regioselectivity of enzymes results in higher yields of purer product—typically comprising just a single enantiomer that has been modified on only a specific site. methyl 4-[methyl-[(2-methylpropan-2-yl)oxycarbonyl]amino]piperidine-2-carboxylate producer.