We are ethyl 2-diethoxyphosphoryl-2-fluoroacetate CAS:2356-16-3 manufacturer and supplier in China, Pls send inquiry of to info@nbinno.com of visit www.nbinno.com our official website should you have any interests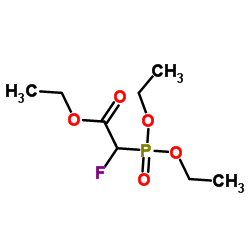 Synonyms:
Diethyl [(ethoxycarbonyl)fluoromethyl]phosphonate
(Diethoxyphosphinyl)fluoroacetic acid,ethyl ester
triethyl phosphonofluoroacetate
ethyl 2-(diethoxyphosphoryl)-2-fluoroacetate
(diethoxy-phosphoryl)-fluoro-acetic acid ethyl ester
Triethyl 2-Fluoro-2-phosphonoacetate
Ethyl (Diethoxyphosphinyl)fluoroacetate
Triethyl fluorophosphonoacetate
ethyl (diethoxyphosphoryl)(fluoro)acetate
(EtO)2P(O)CHFCO2Et
Ethyl diethylphosphonofluoroacetate
2-Fluoro-2-phosphonoacetic Acid Triethyl Ester
ethyl 2-(diethoxycarbonyl)-2-fluoroacetate
(Diethoxyphosphinyl)fluoroacetic Acid Ethyl Ester
Molecular Formula:
C8H16FO5P
Molecular weight:242.18200
Appearance and properties: transparent colorless liquid
Density: 1.194 g/mL at 25 °C(lit.)
Boiling point: 75 °C0.01 mm Hg(lit.)
Flash point: 165 °F
Refractive index: n20/D 1.425(lit.)
Vapor pressure: 9.13E-05mmHg at 25°C
Our company is committed to establishing a complete fluorochemical products and technology platform to provide customers with convenient one-stop services. Our products are widely used in the manufacture of new materials, pharmaceutical research and development and the development of new pesticides. The fluorine product categories include fluorine-containing material raw materials, fluorinated reagents, fluorine-containing building blocks, fluorine-containing reagents and fluorine-containing gases for synthesis. Shanghai Fluorine Technology will strive to build a complete industrial chain from fluorine-containing raw material procurement, fluorination technology research and development, fluorine-containing product production, fluorine-containing product storage, fluorine-containing product quality control and fluorine-containing product application.

Market News:Findings show that there is a decline in the body's immunity over time. The aim of the supplementary dose is to build it up again, and thus reduce the chances of infection and serious illness significantly," Bennett told a news conference.
"I call on all the seniors who received the second dose, go get the supplementary one," he said. "My first telephone call, after I finish speaking, will be to the person dearest to me, my mother, so that I can take her to be vaccinated immediately. (2S)-2-(2-(3,5-difluorophenyl)acetamido)-N-(4-oxo-5-(2-oxoethyl)-2-phenyl-2,3,4,5-tetrahydrobenzo[b][1,4]oxazepin-3-yl)propanamide manufacturer.The booster campaign, with shots administered by health maintenance organisations, will effectively turn Israel into a testing ground for a third dose before approval by the U.S. Food and Drug Administration (FDA). 1,3-bis(trichloroacetoxy)-1-phenylpropane supplier.The suit says that while BRAF kinase inhibitors existed prior to Plexxikon's discoveries, they were not selective, and Plexxikon's have a core molecular structure that allows them to bind selectively to kinase created by the BRAF mutation. That allows for higher doses to be administered. trans-[NBu4][ruthenium(III)Br4(p-tolylsulfonylmethylisocyanide)2] producer.