We are Ethanol, 2,2′-iminobis-, N-C12-18-alkyl derivs CAS:71786-60-2 manufacturer and supplier in China, Pls send inquiry of to info@nbinno.com of visit www.nbinno.com our official website should you have any interests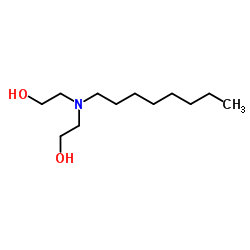 Synonyms:
Ethanol, 2,2'-iminobis-, N-C12-18-alkyl derivs
Alkoxypropylamine polyoxyethylene ether
molecular formula: C12H27NO2
Molecular weight: 217.348
Physical Properties:
Density: 0.9±0.1 g/cm3
Boiling point : 342.4±17.0 °C at 760 mmHg
Flash point : 150.5±19.6 °C
Vapor Pressure : 0.0±1.7 mmHg at 25°C
Refractive index: 1.475
Specification:
| | |
| --- | --- |
| Item | Indicator |
| Exterior | Colorless or light yellow transparent liquid |
| Pour point ℃ | —3~3 |
| Specific gravity (25 ℃) ℃ | 0.910~0.930 |
| Viscosity (25 ° C)Mpa·s | 100~150 |
| Chroma(Hazen) | ≤150 |
| Moisture% | ≤0.05 |
| Tertiary amine% | ≥95.0 |
| Medium and equivalent | 293-307 |
| Primary and secondary amines% | <2.0 |
Application:
This product is a non-ionic surfactant, mainly used as antistatic agent for polyethylene, polypropylene and ABS plastics. During the polypropylene polymerization process, the activity of the polymer particles can be reduced, and the polymer can be prevented from sticking to the inner wall of the reactor and system equipment. When the device is turned on or stopped, it must be added to the system to prevent agglomeration at the bottom of the flash tank. . It plays an important role in stabilizing the process and safe production, and is an irreplaceable process additive.
As a non-ionic surfactant, it can be used as emulsifier, antistatic agent, rust inhibitor, wetting agent, dispersant, desizing agent, softener, and can be used in cosmetics, agricultural spray oils, herbicides, bactericidal Agents, dyes and pigments, lubricating cutting oils, metal processing, papermaking, paints, textiles, tanning, etc. As a liquid surfactant, it is more convenient to use than the commonly used solid surfactants and safer than liquid organic amines.
Package and Storage:
sealed with plastic-lined iron pail with a capacity of 200L. Net weight: 180Kg / barrel.

Market News:In recent years, it has benefited significantly from the development of a broad range of enabling technologies, leading biocatalysis to become an established methodology for efficient, sustainable manufacturing, especially within the drug development industry. (-)-(R)-N-propyl-2-bromonorapocodeine manufacturer.Charles River looks forward to continuing its ongoing partnership with AstraZeneca. It was great to join the team today, to see the facility for myself and congratulate them on this really significant expansion, which will see an €8m investment, creating 90 new jobs for Mayo. Acetyltransferase, formate (Lactococcus lactis lactis strain DB1341gene pfl reduced) supplier.Joan Merrill, Oklahoma Medical Research Foundation, Arthritis & Clinical Immunology Research Program, US, said: "Arthritis and rash are the most common and persistent problems in lupus and often have a significant impact on a person's life. The strength of the data from this analysis is that anifrolumab was found to be consistently effective using three different ways of looking at rash and three different approaches to arthritis. O-tert-Butyl-N,N-dimethyl-L-tyrosyl-glycyl-glycyl-L-phenylalanyl-D-methionin-methylester producer.