We are Diethylmethylvinylsilane CAS:18292-29-0 manufacturer and supplier in China, Pls send inquiry of to info@nbinno.com of visit www.nbinno.com our official website should you have any interests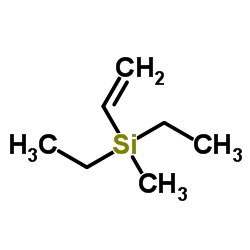 CAS NO.18292-29-0 Diethylmethylvinylsilane Basic information

Product Name

Diethylmethylvinylsilane

Synonyms

DIETHYLMETHYLVINYLSILANE;DiethylmethylvinylsilaneMethyldiethylvinyl silane;METHYLDIETHYLVINYL SILANE;VINYLDIETHYLMETHYLSILANE;Diethylmethylvynilsilane, 99%;DIETHYLMETHYKVINYLSILANE;Ethenyldiethylmethylsilane;

DiethylMethylvinylsilane, 98+%

Structure

CAS NO

18292-29-0

Appearance

Colorless and transparent liquid

Assay

98%min

MF:

C7H16Si

MW

128.29

EINECS

267-423-2

Product Categories

Organosilicon;Self Assembly&Contact Printing;Self-Assembly Materials;

SilanesOrganometallic Reagents;Trialkoxysilanes; Chemical

Synthesis;Contact Printing;Materials Science;Micro/NanoElectronics;

Organometallic Reagents;Self Assembly &;Self-Assembly Materials;Silanes;

Storage

Shading, sealed, dry place.

Capacity

1000KG /month

Package

In paper drums /Fluoride drums /iron drums /plastic drums/IBC Tank ,etc.

Shipment method

By Sea ,Air ,Courier door to door ,etc.

Loading Port

China any port ,Beijing ,Shanghai ,Hong Kong etc.

Application

As additive used in advanced functional materials.
CAS NO.18292-29-0 Diethylmethylvinylsilane
· Sterically-hindered silane reducing agent with potential for diastereoselective reductionsBOILING POINT: 40° / 8
BOILING POINT: 122-4° / 45
MOLECULAR WEIGHT: 246.54
SPECIFIC GRAVITY: 0.831
FLASHPOINT: 68°C (154°F)
HMIS KEY: 2-2-1-X
HYDROLYTIC SENSITIVITY: 3: REACTS WITH AQUEOUS BASE
FORMULA: C12H30OSI2
REFRACTIVE INDEX: 1.4327
Exploit of organic silicon monomers: There are a wide variety of organic silicon monomers on the market at present. Market application is available for more than 1800 kinds of moAnomers, which is increasing every year. As one of domestic leaders in the field of special type monomers development, by now, Our Chemical has developed more than 500 kinds of special monomers, including some custom=made items. We have around 300 monomers in stock, which mainly cover the application in all fields.
R&D service of performance modified of organic silicon monomers: The down-stream products of organic silicon contain resins, coatings and paintings, silicone oil, rubbers, cosmetics, engineering materials, medicine/pharmaceuticals, silica gel, sealing gel, etc. We devote to provide perfect technology service to the companies of the down-stream products and help them to be better in the work of performance modified. Especially in the fields of coatings, silicone oil and engineering materials, Our Chemical has made big breakthroughs.
We offer a full range of services in custom organic synthesis, accomplishing complex, multi-step syntheses and "difficult to synthesize" chemistry projects.Our team of experienced Scientists has expertise in the custom synthesis of a wide range of molecules weight like catalyst ,electronic chemicals ,Organic Silanes ,and other Chemical Intermediates.

Related Products:2-acetoxy-3,3-dinitro-butyric acid methyl ester manufacturer | 3,8-dioxabicyclo[8.2.2]tetradeca-1(12),10,13-triene-2,9-dione supplier | (1S,4aS,4bS,7S,10aS)-1,12-dimethyl-1,3,4,4b,5,6,7,9,10,10a-decahydro-2H-1,4a-(methanoiminomethano)phenanthren-7-ol producer.