We are Dicyclopentyl(dimethoxy)silane CAS:126990-35-0 manufacturer and supplier in China, Pls send inquiry of to info@nbinno.com of visit www.nbinno.com our official website should you have any interests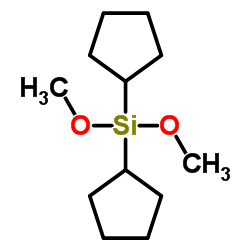 Synonyms:
Dicyclopentyl(dimethoxy)silane
Dicyclopentyldimethoxysilane
dicyclopentyl(dimethoxy)silane
molecular formula: C12H24O2Si
Molecular weight: 228.40300

Physical Properties:
Density: 0.99
Boiling point: 251ºC
Melting point: <0ºC
Flash point: 102ºC
Refractive index: 1.463
Vapor Pressure: 0.015mmHg at 25°C
Specification:
Exterior:Colorless transparent liquid
Purity%:≥99.5
Moisture PPm:<100
Refractive index nD25:1.4640 ~ 1.4660
Density 20 ℃ g / cm³:0.9800 ~ 0.9900
Application:
This product is a new type of external electron donor for olefin polymerization. Due to its unique and excellent performance in olefin polymerization, it greatly improves the crystallinity, isotacticity and apparent density of polyolefin products. The resulting polypropylene has the characteristics of high crystallinity and low melt flow rate, and belongs to a strong electron donor. It can be used alone or in combination with other electron donors to adapt to the production of different grades of polypropylene; when used with a variety of catalysts, it can make the performance and efficiency of the catalyst fully play.
Package and Storage:
Net weight: 180Kg / barrel.
storage: cool, dry, well-ventilated environment, separate from the acid, alkali and oxidant, the shelf life is one year.


Market News:These sites operate under cGMP conditions and have been inspected and approved by leading global pharmaceutical companies and regulatory authorities, including the US FDA. Cyclohexanol, 3-(4-methoxyphenyl)-3-[1-(4-methoxyphenyl)propyl]- manufacturer.The suit says that while BRAF kinase inhibitors existed prior to Plexxikon's discoveries, they were not selective, and Plexxikon's have a core molecular structure that allows them to bind selectively to kinase created by the BRAF mutation. That allows for higher doses to be administered. 1-Methyl-3-pentyl-2,3-dihydro-1H-imidazol-1-ium hexafluorophospha te supplier."The jury was careful and awarded us what we'd asked for down to the penny," Plexxikon's lawyer Daralyn Durie told Bloomberg after the verdict came down. Piperidine, 4-(4-fluorobenzoyl)-1-[4-(1-piperidinyl)benzoyl]- producer.