We are Daminozide CAS:1596-84-5 manufacturer and supplier in China, Pls send inquiry of to info@nbinno.com of visit www.nbinno.com our official website should you have any interests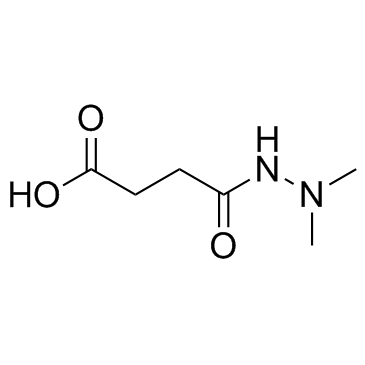 Product Description:
Product Name: Daminozide CAS NO: 1596-84-5
Synonyms:
Succinic acid mono(2,2-dimethylhydrazide);
N-(dimethylamino)succinamic acid;
butanedioic acid mono(2,2-dimethylhydrazide);
Chemical & Physical Properties:
Appearance: White crystal powder
Assay :≥99.00%
Density: 1.183g/cm3
Melting Point: 158-162℃
Water Solubility: 100 g/L
Stability: Stable. Combustible. Incompatible with strong oxidizing agents, strong bases, strong acids, wetting agents, oils, copper-containing compounds.
Storage Condition: 2-8℃
Safety Information:
RTECS: WM9625000
Safety Statements: S36/37
HS Code: 2928000031
WGK Germany: 2
Risk Statement: R40
Hazard Code: Xn
Daminozide — also known as Alar, Kylar, B-NINE, DMASA, SADH, or B 995 — is a plant growth regulator, a chemical sprayed on fruit to regulate their growth, make their harvest easier, and keep apples from falling off the trees before they are ripe. This makes sure they are red and firm for storage. Alar was first approved for use in the U.S. in 1963, it was primarily used on apples until 1989 when it was voluntarily withdrawn by the manufacturer after the U.S. Environmental Protection Agency proposed banning it based on concerns about cancer risks to consumers.
It has been produced in the U.S. by the Uniroyal Chemical Company, Inc, (now integrated into the Chemtura Corporation) which registered daminozide for use on fruits intended for human consumption in 1963. In addition to apples and ornamentals, it was also registered for use on cherries, peaches, pears, Concord grapes, tomato transplants and peanut vines. On fruit trees, daminozide affects flow-bud initiation, fruit-set maturity, fruit firmness and coloring, preharvest drop and market quality of fruit at harvest and during storage. In 1989, it became illegal to use daminozide on food crops in the US, but it is still allowed for use on non-food crops like ornamentals.
If you are interested in our products or have any questions, please feel free to contact us!
Products under patent are offered for R & D purpose only. However, the final responsibility lies exclusively with the buyer.

Related Products:ethyl 8,9-dimethoxy-3-methyl-2-(1H-pyrrol-2-yl)-5,6-dihydropyrrolo[2,1-a]isoquinoline-1-carboxylate manufacturer | (αS,3'R)-4′,4′-dimethyl-γ-butyrolacton-3′-yl 2-(4-fluorophenyl)-3-phthalimidopropanoate supplier | [(Zr(1,3-(t)Bu2-C5H3)(Cl))2(μ-Cl)(μ-η(5)-η(5)-C10H8)]B(C6F5)3Me producer.