We are Phosphoric acid tris(2-ethylhexyl) ester manufacturer and supplier in China, Pls send inquiry of to info@nbinno.com of visit www.nbinno.com our official website should you have any interests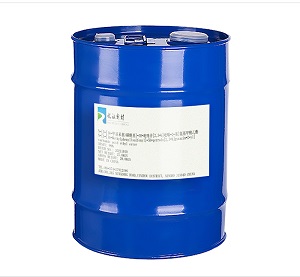 Synonym:
Trioctyl Phosphate
Tris(2-ethylhexyl phosphate)
Triisooctyl phosphate
Tris(2-ethylhexyl)phosphate
Triisooctyl Phosphate
Tris(2-ethylhexyl)phosphate
TOP
Tris(2-ethylhexyl) phosphate
Phosphoric acid tris(2-ethylhexyl) ester
Flame retardant TOP
Countertype or Equivalent:
Specification:
Appearance: colorless transparent liquid Color (platinum-cobalt): ≤20
Acid value, mgKOH/g: ≤0.10
Trioctyl phosphate content (Gc): 99.0%
Dioctyl phosphate content (Gc): ≤0.10 %
Octanol (GC): <0.10%
Flash point: ≥192℃
Interfacial tension (20~25℃): ≥18.0mN/m
Moisture: ≤0.15%
Application:
Trioctyl phosphate (TOP for short) was first used as a plasticizer. It has good compatibility, low temperature flexibility, flame retardancy, and bacteria resistance. It is widely used in plastic and fiber processing. Trioctyl phosphate is mainly used to replace hydrogenated terpinol in the production of hydrogen peroxide by anthraquinone method, so that the product has high concentration, good quality and less self-consumption.
As a flame retardant, plasticizer and extractant, trioctyl acid is widely used in the production of chemical enterprises, and its most important use is the production of hydrogen peroxide. As a solvent for hydroanthraquinone, trioctyl phosphate has the conditions of high solubility of hydroanthraquinone, high partition coefficient of hydrogen peroxide between water and solvent, high boiling point and high flash point.
This product is a flame retardant plasticizer for vinyl resin, cellulose resin and synthetic rubber. It has excellent cold resistance and low temperature performance is better than adipate. The polyvinyl chloride product with this product is at -60 ℃. It can still maintain good flexibility and elasticity, and has good light resistance, water resistance, mildew resistance and insulation, and is equivalent to TOP, and can be used in self-extinguishing products, widely used in model calendering extrusion plastisol, coatings, etc. product.
Packing:
Packing: 200KG/galvanized iron drum
Storage conditions: This product is stored in a dry and ventilated warehouse; keep away from sunlight; avoid fire; avoid moisture, and keep it sealed.
Safety:
non-dangerous goods

Related products: 2-[2-(3,5-difluoro-phenyl)-acetylamino]-pentanoic acid [4-methyl-5-(1-morpholin-4-yl-ethyl)-thiazol-2-yl]-amide manufacturer / 1-(isothiocyanatomethyl)-3-methoxybenzene supplier / 1,2-Benzochinon-bis-phenylthioimin producer