We are Wacker SILANE TBP2 manufacturer and supplier in China, Pls send inquiry of to info@nbinno.com of visit www.nbinno.com our official website should you have any interests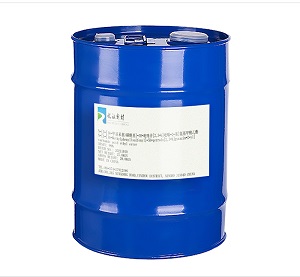 Synonym:
tert-Butylchlorobiphenylsilane
tert-Butylchlorodiphenylsilane
tert-Butyldiphenylsilyl chloride
tert-Butyl(chloro)diphenylsilane
tert-Butyl(chloro)diphenylsilane
tert-Butylchlorodiphenylsilane
chloro-t-butyldiphenylsilane
Diphenyl-t-butylchlorosilane
tert-butyldiphenyl silyl chloride
Countertype or Equivalent:
WACKER Silane TBP2
Wacker SILANE TBP2
Specification:
| | |
| --- | --- |
| Exterior | Colorless or light brown oily liquid |
| content | 98% |
Application:
Tert-butyldiphenylchlorosilane, also known as silane protective agent, is used to replace the active hydrogen in the silyl group (such as the hydrogen in the hydroxyl group, carboxyl group and amino group) to generate a stable intermediate; then, the other intermediates of the intermediate The group undergoes certain reactions; after the reaction, the silyl group is removed through a hydrolysis reaction, and the group originally protected by the silyl group is regenerated to synthesize some specific compounds. Due to the high conversion rate and even quantitative reaction of silane protection and deprotection reactions, it is widely used in organic synthesis, especially in drug synthesis.
tert-Butyldiphenylchlorosilane is used in the synthesis of p-benzophenyloxazole, a compound with antagonistic activity at thromboxane receptors, which is used in the treatment of circulatory diseases, angina pectoris and stroke.
This product can be used as a pharmaceutical intermediate and in organic synthesis
This product is a kind of silicon-based protective group; it is used for the synthesis of pharmaceutical intermediates or other macromolecules.
This product is a silylation reagent, used to protect alcohols and prepare silyl ethers
Packing:
The standard packaging is 190Kg iron drum.
Store in the original unopened container at 25℃ or below. The shelf life of this product is one year from the date of production. Expired products can only be used after passing the test.
Safety:
Dangerous Goods Classification 8

Related products: 2-(1,3-Dioxo-2-phenyl-indan-2-yl)-N-piperidin-1-yl-acetamide manufacturer / sodium 5,5′-terephthaloylbis(2-fluorobenzenesulfonate) supplier / 3,5-Bis-[(3aR,5R,6S,6aR)-5-((R)-2,2-dimethyl-[1,3]dioxolan-4-yl)-2,2-dimethyl-tetrahydro-furo[2,3-d][1,3]dioxol-6-yloxymethyl]-phenylamine producer