We are Degussa Dynasylan 1505 manufacturer and supplier in China, Pls send inquiry of to info@nbinno.com of visit www.nbinno.com our official website should you have any interests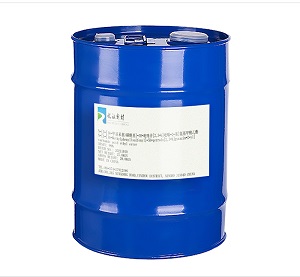 Synonym:
Y-aminopropylmethyldiethoxysilane
3-Aminopropylmethyldiethoxysilane
3-(diethoxymethylsilyl)propylamine
3-diethoxymethylsilyl-1-propylamine
γ-Aminopropylmethyldiethoxysilane
3-Aminopropyldiethoxymethylsilane
3-Aminopropyl(diethoxy)methylsilane
3-(diethoxymethyl-silyl)propylamine
3-Aminopropyl-methyl-diethoxysilane
3-(Diethoxy(methyl)silyl)propan-1-amine
3-Aminopropyl(diethoxy)methylsilane
3-Aminopropyldiethoxymethylsilane
Countertype or Equivalent:
Evonik Degussa Dynasylan 1505
Dow Corning Z-6015
Degussa Dynasylan 1505
Dow Corning Z-6015
Specification:
| | |
| --- | --- |
| Exterior | Colorless transparent liquid |
| content | 96% |
| density | 0.9110±0.0050 |
| Refractive index | 1.4240±0.0050 |
Application:
This product can be used as the raw material of amino-modified silicone oil and organosilicon super soft finishing agent. The amino-silicone oil made can make the fabric smooth and wrinkle-resistant in the process of fabric treatment.
This product improves the mechanical and electrical properties of the product in wet and dry conditions.
This product can modify the surface of fillers (metal oxides, metal powders, etc.).
This product can be used in water-based materials, such as rubber compounds, where it maintains its stability.
Used as adhesion promoter, surface modifier and dispersant, mainly used to improve the binding force and compatibility of inorganic mineral powder materials and fibers to high molecular polymers (resins), and the adhesion of resin coatings to inorganic substrates. Adhesion and water resistance.
This product is also suitable for the modification of engineering rubber and plastic materials, paints, coatings, inks, casting resins, adhesives, sealants, glass fibers, abrasives and other industries.
Suitable resins include phenolic, furan, acrylic, polyurethane, RTV, polyamide, polyolefin, melamine, cellulose, fluororubber, nitrile rubber, polysulfide rubber, EPDM, acrylate rubber, and the like.
Packing:
Standard packaging is 200kg drum or 1000Kg IBC container.
Store in the original unopened container at 25℃ or below. The shelf life of this product is half a year from the date of production. Expired products can only be used after passing the test.
Safety:
Dangerous Goods Classification 8

Related products: 6-chloro-3H-pyridin-3-ide,chlorozinc(1+) manufacturer / disodium,7-[(4-aminophenyl)diazenyl]naphthalene-1,3-disulfonate supplier / Benzoic acid, 4-chloro-3-[[2-[3,5-dioxo-1-phenyl-2-(phenylmethyl)-1,2,4-triazolidin-4-yl]-4,4-dimethyl-1,3-dioxopentyl]amino]-, 1-[(dodecyloxy)carbonyl]pentyl ester producer