We are 2-Butene-1,4-diol bis(bromoacetate) ester manufacturer and supplier in China, Pls send inquiry of to info@nbinno.com of visit www.nbinno.com our official website should you have any interests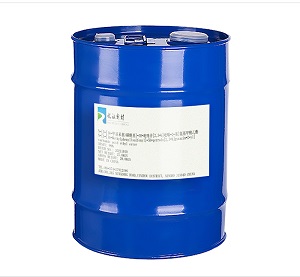 Synonym:
1,4-Bis(bromoethylketoneoxy)-2-butene
2-Butene-1,4-diol bis(bromoacetate) ester
2-Butene-1,4-diol-2-bromoacetate
BBAB
2-Butene-1,4-diylbis(bromoacetate)
1,4-Bis(bromoacetoxy)-2-butene
But-2-ene-1,4-diylbis(bromoacetate)
Countertype or Equivalent:
Specification:
Appearance: reddish brown Liquid content: 90%
Density: 1.77
PH: 2-4
Application:
It is an industrial fungicide used to prevent the growth and reproduction of bacteria and algae in papermaking, industrial circulating cooling water, membrane filtration systems, lubricating oil for metal processing, pulp, wood, paint and plywood, and can be used for slime control. It is widely used in pulp and circulating cooling water systems and membrane systems in paper mills. As a biocide, it can penetrate the cell membrane of microorganisms and act on certain protein groups to stop the normal redox of cells, thereby causing cell death. At the same time, its branches can selectively brominate or oxidize the special enzyme metabolites of microorganisms, eventually leading to the death of microorganisms. This product has good peeling performance, no foam when used, liquid product and water can be miscible in any ratio.
Features:
bactericidal effect of non-oxidizing fungicides;
It has a peeling effect on the slime formed by bacteria;
Compatible with all membranes;
It is not easy to penetrate the membrane into the product water, and it is not easy to produce resistance;
It is suitable for a wide pH range, has good biodegradability and does not pollute the environment.
Packing:
Packing: 200KG barrel
Storage conditions: This product is stored in a dry and ventilated warehouse; keep away from sunlight; avoid fire; avoid moisture.
Safety:
Hazard classification 8

Related products: 4-bromo-5-chloro-N-methyl-N-(3-(piperidin-1-yl)propyl)thiophene-2-sulfonamide manufacturer / p-Nitro-p'-fluordiphenylethen supplier / 2-(4-Chloro-phenyl)-3-[N'-(4-chloro-phenyl)-hydrazino]-3-methyl-butyric acid producer