We are 2-Benzyl-2-(dimethylamino)-4′-morpholinyl phenylbutanone
2-Dimethylamino-2-benzyl-1-[4-(4-morpholinyl)phenyl]-1-butanone
2-Phenylbenzyl-2-dimethylamine-1-(4-morpholinebenzylphenyl)butanone
2-Benzyl-2-dimethylamino-4-morpholine
2-Benzyl-2-(dimethylamino)-1-[4-(morpholino)phenyl]-1-butanone
Photoinitiator 369
2-Benzyl-2-(dimethylamino)-1-[4-(4-morpholinyl)phenyl]-1-butanone
Photoinitiator 369
PI-369 manufacturer and supplier in China, Pls send inquiry of to info@nbinno.com of visit www.nbinno.com our official website should you have any interests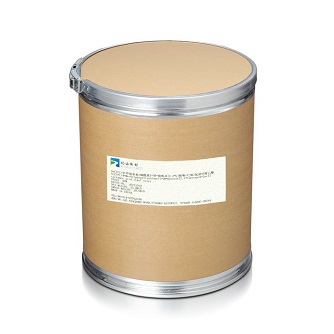 Synonym:
2-Benzyl-2-(dimethylamino)-4′-morpholinyl phenylbutanone
2-Dimethylamino-2-benzyl-1-[4-(4-morpholinyl)phenyl]-1-butanone
2-Phenylbenzyl-2-dimethylamine-1-(4-morpholinebenzylphenyl)butanone
2-Benzyl-2-dimethylamino-4-morpholine
2-Benzyl-2-(dimethylamino)-1-[4-(morpholino)phenyl]-1-butanone
Photoinitiator 369
2-Benzyl-2-(dimethylamino)-1-[4-(4-morpholinyl)phenyl]-1-butanone
Photoinitiator 369
PI-369
Countertype or Equivalent:
Specification:
Appearance: pale yellow-green crystals
Content: ≥99%
Melting point: 110-119°C
Volatile matter: ≤ 0.3%
Light transmittance: 450nm: ≥90% 500nm: ≥98%
Application:
This product is a photoinitiator with high sensitivity range and high UV absorption, which is used to initiate free radical photopolymerization. It can be compounded with other photoinitiators such as 184 or BDK, 907, and ITX for UV curing. In inks and coatings. 369 is particularly suitable for UV curing of colored systems, especially blue and black hue systems, and can even be used in systems containing UV absorbers. 369 is used in the packaging field, such as offset printing, screen ink, etc., and in the electronic industry, such as: photoresist, solder resist ink, etc. Since the effect of 369 photoinitiation depends largely on different formulations, the best effect and dosage should be obtained by formula testing.
Packing:
Packing: 25KG/carton and paper drum.
Storage conditions: This product is stored in a dry and ventilated warehouse; keep away from sunlight; avoid fire; avoid moisture, and keep it sealed.
Safety:
non-dangerous goods

Related products: N-(trimethylsilylmethyl)butan-1-amine,hydrobromide manufacturer / (4,6-dimethyl-pyrimidin-2-yl)-phosphoramidic acid diphenyl ester supplier / 3-chlorobutyl-(chloromethyl)-dimethylsilane producer