We are BASF Tinuvin 5050 manufacturer and supplier in China, Pls send inquiry of to info@nbinno.com of visit www.nbinno.com our official website should you have any interests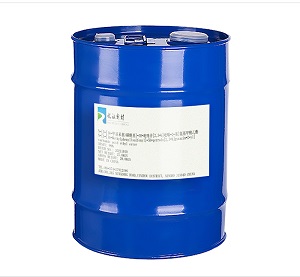 Synonym:
UV Absorber UV-5050
Light Stabilizer UV-505
Compound light stabilizer
UV Absorber 5050 is a mixture of 104810-48-2, 104810-47-1, 25322-68-3, 41866-26-7 and 82919-37-7
Ultraviolet Absorber UV-5050
UV-5050
Countertype or Equivalent:
BASF UV absorber Tinuvin 5050
BASF Tinuvin 5050
BASF Tinuvin 5050
Specification:
Appearance: Viscous amber liquid
Viscosity at 25°C: 7000mPa.s
Density at 20℃: 1.03 g/cm3
Compatibility: It can be miscible with most organic solvents for coatings at a ratio of more than 50%, but the solubility in water is less than 0.01%
Application:
It is a composite light stabilizer used in the coating industry. Its excellent thermal stability and environmental durability make it suitable for protecting high temperature bake systems and industrial coatings used in extremely harsh conditions. Based on its broad absorption wave range, UV-5050 UV absorber can effectively protect photosensitive substrates such as wood and plastic.
UV-5050 is a general purpose UV absorber. Suitable for clearcoats, pigmented systems, waterborne and solventborne systems. The additive is especially recommended for clearcoats and light-colored paints such as:
① Wood paint (especially water-based acrylic dispersion system);
② Furniture and decorative coatings (especially water-based acrylic dispersions);
③ One- and two-component PUR coating systems;
④ Industrial baking paint (such as alkyd resin, PES/melamine system, PES/NCO system);
⑤ Car wax, car polishing oil and vinyl insecticide;
⑥ Unsaturated and polyester (UPES)/styrene system gel coat.
The addition of co-solvents such as butyldiethylene glycol or Texanol to UV-curable acrylic and unsaturated resin systems will make UV-5050 easier to disperse in waterborne coatings.
Packing:
Packing specification: 20kg blue plastic bucket
Storage conditions: Store the product in a cool, dry and ventilated place, keep the container tightly closed; keep away from light; keep away from fire and heat sources; keep away from strong oxidants and strong reducing agents.
Safety:
no data

Related products: Magnesium, ethyl[2-[(trimethylsilyl)methyl]butyl]- manufacturer / 1-(4-methyl-1(2)H-pyrazol-3-yl)-ethanone supplier / sodium,4-(dibenzylamino)benzenesulfonate producer