We are Benzalkonium Chloride CAS:8001-54-5 manufacturer and supplier in China, Pls send inquiry of to info@nbinno.com of visit www.nbinno.com our official website should you have any interests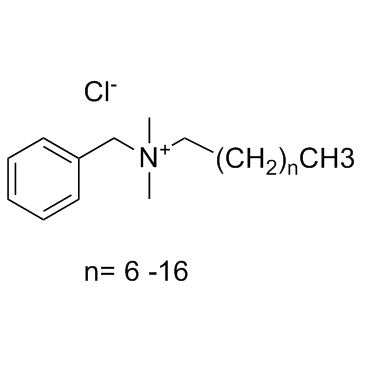 Product Description:
Product Name: Benzalkonium Chloride CAS NO: 8001-54-5
Synonyms:
Preventol RI 80;
Neo germ-i-tol;
Biosperse 214N;
Chemical & Physical Properties:
Appearance: Clear or white to yellow, may contain yellow-white fragments viscous solution
Assay :≥99.0%
Density: 0.98
Storage Temp. : 2-8℃
Solubility: Very soluble in water and in ethanol (96 per cent). An aqueous solution froths copiously when shaken.
Stability: Stable. Incompatible with strong oxidizing agents, moisture. Hygroscopic.
Safety Information:
HS Code: 34021200
Hazard Codes: C,N
WGK Germany: 3
Safety Statements: 36/37/39-45-61
RIDADR: UN 3261 8/PG 3
RTECS: BO3151000
Risk Statements: 21/22-34-50
Benzalkonium chloride, also known as BZK, BKC, BAC, alkyldimethylbenzylammonium chloride and ADBAC, is a type of cationic surfactant. It is an organic salt called a quaternary ammonium compound. It has three main categories of use: as a biocide, a cationic surfactant, and as a phase transfer agent. ADBACs are a mixture of alkylbenzyldimethylammonium chlorides, in which the alkyl group has various even-numbered alkyl chain lengths. benzalkonium chloride is a preservative with anti-microbial and deodorant properties. It can also be used as a surfactant. With continuous use, it may cause occasional allergic reactions.
If you are interested in our products or have any questions, please feel free to contact us!
Products under patent are offered for R & D purpose only. However, the final responsibility lies exclusively with the buyer.

Related Products:3-(3-carbamimidoylphenyl)-5-((4,5-dichloro-1H-imidazol-1-yl)methyl)-N-(2′-(N-methylsulfamoyl)-[1,1′-biphenyl]-4-yl)-4,5-dihydroisoxazole-5-carboxamide manufacturer | F-2-methyl-2-pentanol supplier | (1R,4S,12S,13S,16R)-9-methoxy-13-(methoxymethoxy)-11-oxapentacyclo[8.6.1.01,12.04,16.06,17]heptadeca-6(17),7,9-trienone oxime producer.