We are Bengenin CAS:477-90-7 manufacturer and supplier in China, Pls send inquiry of to info@nbinno.com of visit www.nbinno.com our official website should you have any interests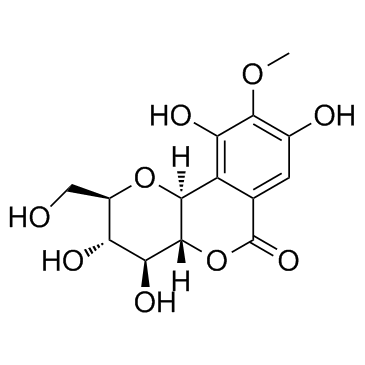 Product Description:
Product Name: Bengenin CAS NO: 477-90-7
Synonyms:
Pyrano[3,2-c][2]benzopyran-6(2H)-one,3,4,4a,10b-tetrahydro-3,4,8,10-tetrahydroxy-2-(hydroxymethyl)-9-methoxy-[2R-(2α,3β,4α,4aα,10bβ)]-;
(+)-Bergenin;
α-Resorcylic acid, 4-methoxy-2-[tetrahydro-3,4,5-trihydroxy-6-(hydroxymethyl)pyran-2-yl]-, δ-lactone (7CI);
Chemical & Physical Properties:
Appearance: The loose white needle crystal powder or crystalline
Assay :≥99.0%
Density: 1.639 g/cm3
Boiling Point: 658.9℃ at 760 mmHg
Melting Point: 237-240℃(lit.)
Flash Point: 250.7℃
Refractive Index: 1.655
Vapor Pressure: 2.92E-18mmHg at 25℃
Safety Information:
Safety Statements: 26-36
WGK Germany: 3
Risk Statements: R36/37/38
Hazard Codes: Xi,Xn
Bergenin, alias cuscutin, is trihydroxybenzoic acid glycoside. It is the C-glycoside of 4-O-methyl gallic acid. It possesses an O-demethylated derivative called norbergenin. These are chemical compounds and drugs of Ayurveda, commonly known as Paashaanbhed. It shows a potent immunomodulatory effect.
Bergenin can be isolated from Bergenia species like Bergenia ciliata and Bergenia ligulata, from rhizomes of Bergenia stracheyi. It is also found in the stem bark of Dryobalanops aromatica, in Ardisia elliptica and in Mallotus japonicus.
If you are interested in our products or have any questions, please feel free to contact us!
Products under patent are offered for R & D purpose only. However, the final responsibility lies exclusively with the buyer.

Related Products:(1-isopropyl-propenyloxy)trimethylsilane manufacturer | 2-trimethylsilyloctane-1,2-diol supplier | 2-bromo-2-trimethylsilyloctan-1-ol producer.