We are BASF light stabilizer Tinuvin B75 manufacturer and supplier in China, Pls send inquiry of to info@nbinno.com of visit www.nbinno.com our official website should you have any interests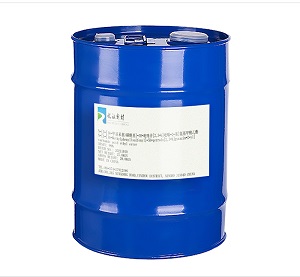 Synonym:
UV absorber UV-B75
Light Stabilizer UV-B75
Compound light stabilizer
Mixture of antioxidant, benzotriazole type UV absorber and hindered amine type light stabilizer
Synergistic Blend of 20% BX 1135 + 40% UV 571 + 40% UV 765
Ultraviolet Absorber UV-B75
UV-B75
Countertype or Equivalent:
BASF light stabilizer Tinuvin B75
BASF Tinuvin B75
BASF Tinuvin B75
Specification:
Appearance: Transparent pale yellow liquid Active content: ≥99%
Boiling point: > 200°C
Flash point: > 90°C
Density (20°C): 0.95 – 1.0 g/ml Solubility (20°C) g/100 g solution ① Acetone: > 50
② Benzene: > 50
③ Chloroform: > 50
④ Ethyl acetate: > 50
⑤ Water: <0.01
Application:
UV-B75 is suitable for reaction injection molding (RLM) polyurethane and thermoplastic polyurethane (TPU), and can also be used in sealants and adhesives. It also has good applications in tarpaulins, floors, and polyurethane coatings in synthetic leather.
UV-B75 protects against processing, light and weather-induced degradation in polyurethane products such as shoe soles, instrument and door panels, steering wheels, window trim, headrests and armrests.
UV-B75 can be easily added to aromatic or aliphatic polyurethane systems for thermoplastic moldings, semi-rigid integral foams, in-mold skins, coating applications. It can be used with natural and colored materials.
Packing:
Packing: 20kg/drum
Storage conditions: This product has good storage stability. High temperature and humidity should be avoided during storage and transportation. It should be stored in a cool, dry and ventilated place to prevent moisture and heat.
Safety:
no data

Related products: 7-Methyl-10,11-dihydro-5H-imidazo[2,1-c] [1,4]-benzodiazepin-11-one hydrochloride manufacturer / 1,3-Benzodioxole-5-methanamine, N-(chloro-2-nitrophenyl)- supplier / 3-Pentanone,2-[(3R,4S,5S)-2,2-bis(1,1-dimethylethyl)-3,4-dimethyl-1-oxa-2-silacyclopent-5-yl]-, (2S)-rel- producer