We are Aluminium isopropoxide CAS:555-31-7 manufacturer and supplier in China, Pls send inquiry of to info@nbinno.com of visit www.nbinno.com our official website should you have any interests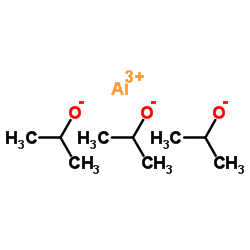 Synonyms:
Aluminium Iso-Propoxide
Aluminium isopropoxi
2-Propanol, aluminum salt (3:1)
ALUMINUM I-PROPOXIDE
AIP
Aluminium tri(2-propanolate)
tris isopropylate aluminium
Aluminium isopropoxide
ALUMINUM ISOPROPYLATE
aluminumisopropanolate
aluminum isopropoxide
EINECS 209-090-8
triisopropoxyaluminium
Aluminum triisopropoxide
MFCD00008870
Aiuminumisopropoxide
Aliso
2-Propanol, aluminum salt
Aluminum tripropan-2-olate
Triisopropoxyaluminum
molecular formula: C9H21AlO3
Molecular weight:
204.243
Physical Properties:
Appearance: white solid
Density: 1.035g/mL25°C
Boiling point: 125-130 °C (38 mmHg)
Melting point: 128133°C
Flash point : 46 °C
Refractive index: 1.0346
Specification:
Item
Specification
Testing Result
1
Appearance
White powder or block
White powder
2
Solubility in Toluene(1:10)
Transparent
Transparent
3
Al Content(ppm)
12.9-13.5
13.2
4
Fe Content(ppm)
s10
<10
5
Melting Point (oC)
116~135
127.6-131.5
6
Content (%)
299.0
99.8
7
AlzO₃Content(%)
≥24.7
24.9
Conclusion: Pass
Application:
Pharmaceutical intermediates, organic catalytic reactions. Hormone pharmaceutical intermediates such as isophytol, testosterone, Worth's oxide, progesterone, androstenedione, arginyl progesterone, one of the raw materials of aluminate coupling agent for rubber and plastic processing, ink thickener- The raw material of fatty acid aluminum oxane compound AOC18 is also used as active catalyst and carrier, inorganic membrane, suitable for reducing agent, dehydrating agent and waterproofing agent.
Package and Storage:

Market News:The Institute for Clinical and Economic Review (ICER) on Friday released its report examining the cost-effectiveness of Soliris, also known as eculizumab, as well as up-and-comer efgartigimod for patients with the myasthenia gravis. Ethanone, 1-(2,3-dihydro-5-methyl-1H-pyrrolizin-7-yl)- manufacturer.Now, with the support that continues to pour in, GEM is thrilled to launch our phase 3 program for long term housing with funding partners The Schul of Bal Harbour, EZS Events, Hatzalah of South Florida, and Ygrene. 2-(4-isopropyl-4-methyl-5-oxo-4,5-dihydro-1H-imidazol-2-yl)-benzoic acid 1,1-diisopropyl-allyl ester supplier.Biocatalysis is widely recognized to be one of the most powerful tools for organic synthesis due to its green credentials and its exquisite regio-, enantio-, and stereoselectivities. 1,1,2,2,3,3,4,4,5,5,6,6,7,7,7-pentadecafluoro-N-methyl-heptane-1-sulfonamide producer.