We are ALL-TRANS-RETINAL CAS:116-31-4 manufacturer and supplier in China, Pls send inquiry of to info@nbinno.com of visit www.nbinno.com our official website should you have any interests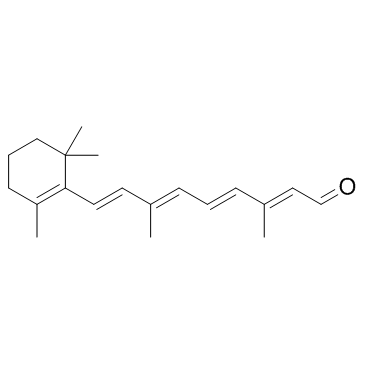 Synonym: Retinal; Vitamin A aldehyde
CAS NO.:116-31-4

Chemical & Physical Properties
Density: 0.9±0.1 g/cm3
Boiling Point: 421.4±14.0 °C at 760 mmHg
Melting Point: 61-63°C
Molecular Formula: C20H28O
Molecular Weight: 284.436
Flash Point: 205.4±12.4 °C
Exact Mass: 284.214020
PSA: 17.07000
LogP: 6.54
Vapour Pressure: 0.0±1.0 mmHg at 25°C
Index of Refraction: 1.541
Storage condition: −20°C

Description
Retinal is an anti-wrinkle, anti-aging, anti-acne skin care active ingredient.Studies have shown that
retinal is less irritating to the skin than other commonly used derivatives of vitamin A (eg, tretinoin),
making it more suitable for sensitive skin.
In addition, the retinoic acid converted into retinoic acid after metabolism by the human body also has
the effect of treating acne, which can be said to be a multifunctional active additive. Retinal can be
used in various anti-wrinkle, anti-aging and anti-acne skin care formulations, and the recommended
dosage is about 0.05% ~ 0.15%.
Pure retinal solids are sensitive to UV light and prone to oxidation, requiring protection from light and
storage at low temperatures.If the customer has demand, we can configure it into a solution of edible
alcohol with a specified concentration, which is more convenient for long-term storage.

Specification
Appearance: Yellow solid powder
Assay(HPLC): ≥98.0%
Water: ≤0.5%Application

This product is an active ingredient for anti-wrinkle and anti-aging, and the recommended dosage in
the formula is 0.05% ~ 0.15%. When using, the retinal crystals can be directly added to the cold oil
phase (the temperature should not exceed 60°C), and then participate in the heating or emulsification
process after fully dissolving.
Inspection basis
Enterprise Standard
Test Items
Specification
Test Result
Appearance
Yellow Solid powder
Conform
Assay(HPLC)
≥98%
99.21%
Water
≤0.5%
0.11%
Package and Storage
1kg/bag, packed in a sealed aluminum foil bag with nitrogen protection.
It can be stored for 2 years in the sealed state at -20°C, please use immediately after opening.

Note
This product is a pure compound, which is easily oxidized in the air. Please use it in a short time after
opening the sealed package. At the same time, it is necessary to add appropriate antioxidants to the
formula to improve the stability of the formula. In addition, retinal itself has color, and the color
change caused by the color of retinal itself needs to be considered in the color formula.


Market News:The site's workforce currently stands 550-strong. Takeda plans to boost its headcount in Thousand Oaks, though nothing is certain, Hatke said, as quoted by the Business Times. 2-bromo-5-(4-methoxyphenyl)thiophene manufacturer.Given ICER's uncertainty regarding efgartigimod's dosing and long-term benefits, the group said it's moderately certain the drug can produce a "comparable, small or substantial net health benefit" in that same group of MG patients. 4-(2,4-dimethyl-1,3-thiazol-5-yl)pyrimidin-2-amine supplier.These have since been joined by many other types of enzyme, including transaminases, oxidases, nitrilases, aldolases, and ammonia lyases, all of which perform distinct functions. 2,5-diisothiocyanato-benzenesulphonic acid 2 h2o producer.