We are 4-Ethyl-2-methoxyphenol CAS:2785-89-9 manufacturer and supplier in China, Pls send inquiry of to info@nbinno.com of visit www.nbinno.com our official website should you have any interests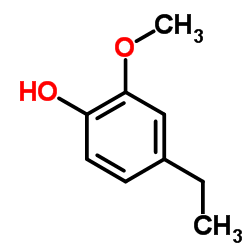 Product Description:
Product Name: 4-Ethyl-2-methoxyphenol CAS NO: 2785-89-9
Synonyms:
Guaiacyl ethane;
2-Methoxy-4-ethylphenol;
Homocresol;
Chemical & Physical Properties:
Appearance: Clear colorless to light yellow liquid
Assay :≥99.0%
Density: 1.058
Boiling Point: 234-236℃
Melting Point: 15℃
Flash Point: 107.7℃
Refractive Index: 1.525-1.53
Vapor Pressure: 0.0173mmHg at 25℃
Safety Information:
Hazard Class: 6.1(b)
Safety Statements: S26-S37/39
HS Code: 2932999099
Packing Group: III
WGK Germany: 2
RIDADR: UN 2810
Risk Statements: R22; R36/37/38
Hazard Code: Xn
Symbol: GHS07
Signal Word: Warning
Hazard Statements: H315-H319-H335
Precautionary Statements: P261-P305 + P351 + P338
4-Ethylguaiacol, often abbreviated to 4-EG, is a phenolic compound with the molecular formula C9H12O2. It is produced along with 4-ethylphenol (4-EP) in wine and beer by the spoilage yeast Brettanomyces. When it is produced by the yeast to concentrations greater than the sensory threshold of >600 µg/L, it can contribute bacon, spice, clove, or smoky aromas to the wine. On their own these characters can be quite attractive in a wine, however as the compound usually occurs with 4-EP whose aromas can be more aggressive, the presence of the compound often signifies a wine fault. The ratio in which 4-EP and 4-EG are present can greatly affected the organoleptic properties of the wine.
If you are interested in our products or have any questions, please feel free to contact us!
Products under patent are offered for R & D purpose only. However, the final responsibility lies exclusively with the buyer.

Related Products:diphenyl-thiophosphinic acid O-octyl ester manufacturer | [Cu2(2-methyl-8-oxoquinolinato)2(μ-norbornadiene)] supplier | (1E)-1-(4-(dimethylamino)phenyl)-4-((triphenyl-l5-phosphaneylidene)hydrazineylidene)pent-1-en-3-one producer.