We are 4-Chlorobenzotrifluoride CAS:98-56-6 manufacturer and supplier in China, Pls send inquiry of to info@nbinno.com of visit www.nbinno.com our official website should you have any interests

CAS No: 98-56-6
Product Name: 4-Chlorobenzotrifluoride
Other Name:
4-Chlorobenzotrifluoride
4-Chloro-α,α,α-trifluorotoluene
p-Chloro-α,α,α-trifluorotoluene
p-chlorotrifluoromethylbenzene
1-Chloro-4-(trifluoromethyl)benzene
Parachlorobenzotrifluoride
p-Chlorobenzotrifluoride
4-chloro-trifluoromethylbenzene
4-Trifluoromethylchlorobenzene
p-trifluoromethylchlorobenzene
Density: 1.3±0.1 g/cm3
Boiling Point: 138.5±0.0 °C at 760 mmHg
Melting Point: -36 °C
Molecular Formula: C7H4ClF3
Molecular Weight: 180.555
Flash Point: 47.2±0.0 °C
Exact Mass: 179.995361
LogP: 3.46
Vapour Pressure: 8.3±0.2 mmHg at 25°C
Index of Refraction: 1.448
Stability: Stable, but heat and light sensitive. Reacts vigorously with oxidizing agents. Flammable. Incompatible with sodium dimethyl sulfonate, strong bases.
Water Solubility: 29 ppm (23 ºC)
Specification
Appearance: Colorless Liquid
Purity by GC: ≥99%
o-chlorobenzotrifluoride, by GC: ≤0.3%
m-chlorobenzotrifluoride, by GC: ≤0.3%
Dichlorobenzotrifluoride, by GC: ≤0.1%
Acidity, ppm (spec. ion probe): ≤3ppm
Color (APHA): ≤20APHA
Non-Volatile Residue, Wt%: ≤0.0020%
Specific Gravity at 25°C: 1.330 ~1.350
Other impurities by GC: ≤0.1%
Water (by Karl Fisher): ≤150ppm
PH: 6-8
Application
Intermediates of Lactofen CAS: 83513-60-4.
Intermediates of Benzofluorfen CAS: 77501-60-1.
Intermediates of Fomesafen CAS: 72178-02-0.
Intermediates of Acifluorfen Sodium CAS: 62476-59-9
Intermediates of Oxyfluorfen CAS: 42874-03-3.
Intermediates of Trifluralin CAS: 1582-09-8.
Applicationd in the manufacture of dyes, pigments, drugs, pesticides, etc. Solvent, dye intermediate. It is an intermediate for synthesizing the herbicides fluroxaline, triflufenacil, ethoxyfluorfen.
Package: 25kg/drum, can also be designed according to customer requirements.
Storage: Store in cool place. Keep container tightly closed in a dry and well-ventilated place.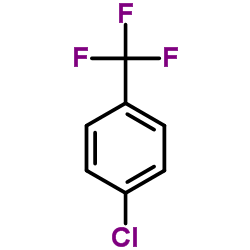 Related News: The use of contrast agents is different from other drugs, and it needs to be used with corresponding equipment. In recent years, China is in the growth period of imaging equipment.(S)-1-Boc-3-hydroxypiperidine CAS:143900-44-1 Some experts said that in the research and development of chemical medicine, the possibility of large medicines is getting smaller and smaller, and with the popularization of precision treatment, small medicines (high-efficiency medicines) are being introduced more and more.2-Fluoro-5-methylaniline The bulk-buy program, which currently covers 25 types of medicines, allows no more than three successful bidders access to China's public hospitals, where most Chinese people buy their drugs.Etil (R) – (+) – 4-cloro-3-hidroxibutirato CAS:90866-33-4 The Company's immuno-regulatory product candidates include ProTmune, a pharmacologically modulated, donor cell graft that is currently being evaluated in a Phase 2 clinical trial for the prevention of graft-versus-host disease, and a myeloid-derived suppressor cell immunotherapy for promoting immune tolerance in patients with immune disorders. Fate Therapeutics is headquartered in San Diego, CA.Under the terms of this agreement, Inceptua will support Onconova through the pre-approval provision of intravenous rigosertib initially into a number of countries including: Australia, Denmark, Finland, France, Ireland, Italy, the Netherlands, Portugal, South Africa, Spain, and the UK.