We are 4-Chloro-1,8-naphthalic anhydride CAS:4053-08-1 manufacturer and supplier in China, Pls send inquiry of to info@nbinno.com of visit www.nbinno.com our official website should you have any interests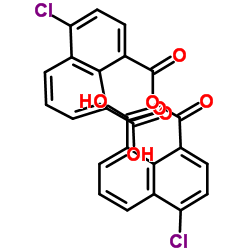 Synonyms:
4-Chloro-1,8-naphthalic anhydride
6-Chlorobenzo[de]isochromene-1,3-dione
4-chloronaphthalene-1,8-dicarboxylic acid anhydride
EINECS 223-760-7
6-Chloro-1H,3H-benzo[de]isochromene-1,3-dione
4-chloro-1,8-naphtalic acid anhydride
6-Chloronaphtho[1,8,8a-c,d]pyran-1,3-dione
1H,3H-Naphtho(1,8-cd)pyran-1,3-dione,6-chloro
4-Chloronaphthalic anhydride
4-Chloronaphthalene-1,8-dicarboxylic anhydride
Naphthalic anhydride,4-chloro-(7CI,8CI)
molecular formula: C12H5ClO3
Molecular weight: 232.61900
Physical Properties:
Appearance and Properties: Beige to brown powder Density: 1.565 g/cm3
Boiling Point: 450.9ºC at 760 mmHg
Melting Point: 202-206 °C (dec.)
Flash Point: 208.3ºC
Refractive Index: 1.715
Specification:
Appearance :Gray-white powder
Content : 99.0%
Melting point :202-206°C
Moisture :≤0.50%
Ash : ≤0.20
Chloride : ≤20ppm
Iron ion :<20ppm
Application:
Uses: It is an important raw material for synthesizing dyes, pigments and fluorescent whitening agents.
Package and Storage:
1kg/bottle or bag
25kgs/drum or bag

Market News:Additionally, Charles River provides paid time-off for its employees to volunteer for charitable and community organisations. (S)-2-(3-benzylureido)-3-(4-oxo-5-(2-(piperidin-4-yl)ethyl)-4,5,6,7-tetrahydropyrazolo[1,5-a]pyrazine-2-carboxamido)propanoic acid hydrochloride manufacturer.Along with Natural Biogenix were Symbiotec Pharmalab, Macleods Pharmaceutical, Optimus Drugs, Sudarshan Pharma, Saraca Laboratories, Emmennar Pharma, Hindys Lab, Aarti Speciality, Meghmani LLP and and Sadhana Nitro Chem. 2′-O-Cyanomethyl-6-O-(2-nitrophenyl)-3′,5′-O-(tetraisopropyldisiloxane-1,3-diyl)guanosine supplier.As the Covid-19 pandemic continues to challenge the global drug supply chain, nations are looking for new ways to enable native producers to continue scaling up. Now, an Israeli API maker is dropping a down payment into an Indian intermediates company to ramp up its own manufacturing base. (3S,7R,10R,16S,E)-16-((2R,3R,4S)-4-chloro-3-hydroxy-4-phenylbutan-2-yl)-10-(3-chloro-4-methoxybenzyl)-3-isobutyl-7-methyl-1,4-dioxa-8,11-diazacyclohexadec-13-ene-2,5,9,12-tetraone producer.