We are 4-Biphenylacetic Acid CAS:5728-52-9 manufacturer and supplier in China, Pls send inquiry of to info@nbinno.com of visit www.nbinno.com our official website should you have any interests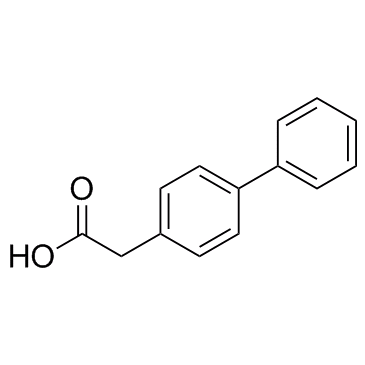 Product Description:
Product Name: 4-Biphenylacetic acid CAS NO: 5728-52-9
Synonyms:
[1,1'-Biphenyl]-4-acetic acid;
p-biphenylacetic acid;
Napageln;
Chemical & Physical Properties:
Appearance: Beige powder
Assay :≥99.0%
Density: 1.165 g/cm3
Boiling Point: 365℃
Melting Point: 156-160℃
Flash Point: 286.6℃
Stability: Stable under normal temperatures and pressures.
Storage Condition: Store in a cool, dry place. Keep container closed when not in use. Store in a tightly closed container. Store in a cool, dry, well-ventilated area away from incompatible substances.
Safety Information:
RTECS: DU8229050
Hazard Class: 6.1
Safety Statements: S26-S28-S37/39-S45
HS Code: 29163900
Packing Group: III
WGK Germany: 3
RIDADR: UN 2811
Risk Statements: R25; R36/37/38
Hazard Code: T
Felbinac is a potent non-steroidal anti-inflammatory agent, used to treat muscle inflammation and arthritis. Processing, custom all kinds of fine chemical products, nitrification products, hydrogenation reduction products. Intermediate of ethyl diphenylacetate, an anti-inflammatory and analgesic drug.
If you are interested in our products or have any questions, please feel free to contact us!
Products under patent are offered for R & D purpose only. However, the final responsibility lies exclusively with the buyer.

Related Products:(2,3,4-tri-O-benzoyl-α-L-rhamnopyranosyl)-(1-)3)-2,4-di-O-benzoyl-β-L-arabinopyranosyl trichloroacetimidate manufacturer | N-benzyloxycarbonyl-3-amino-4-oxo-5-(5-(4-chlorophenylsulfinylmethyl)tetrazol-2-yl)pentanoic acid supplier | morpholine,nonanoic acid producer.