We are 4-(1-phenylethyl)benzene-1,3-diol CAS:85-27-8 manufacturer and supplier in China, Pls send inquiry of to info@nbinno.com of visit www.nbinno.com our official website should you have any interests

CAS No: 85-27-8
Product Name: 4-(1-phenylethyl)benzene-1,3-diol
Other Name:
4-(1-phenylethyl)benzene-1,3-diol
4-(1-Phenylethyl)resorcin
Symwhite 377
Density: 1.2±0.1 g/cm3
Boiling Point: 365.1±17.0 °C at 760 mmHg
Molecular Formula: C14H14O2
Molecular Weight: 214.260
Flash Point: 175.2±15.5 °C
Exact Mass: 214.099380
PSA: 40.46000
LogP: 3.10
Vapour Pressure: 0.0±0.8 mmHg at 25°C
Index of Refraction: 1.616
Specification
Appearance: White powder
Specific rotation: +39.5 to +41.5°
State of solution(transmittance): Clear 98.0% min
Chloride[cl]: 0.020% max
Ammonium [NH4]: 0.02% max
Sulfate[SO4]: 0.020% max
Iron[Fe]: 10ppm max
Heavy metals [Pb]: 10ppm max
Arsenic[As2O3]: 1ppm max
Other amino acids: Chromatographically not detectable
Loss on drying: 0.20% max
Residue on ignition[sulfated]: 0.10% max
Assay: 99.0% min
Application
4-(1-Phenylethyl)-1,3-benzenediol is an novel active ingredient of highly efficient skin lightening agents.
Extremely effective tyrosinase inhibitor with excellent antioxidant function. It is widely used in various whitening, freckle and anti-aging products. It can reduce skin coloration caused by ultraviolet radiation and can improve uneven skin tone.
Phenethyl resorcinol (377) is a high-efficiency new skin whitening agent derived from silver pine, with a superb potential whitening effect: in vitro experiments have also proven to be dozens or even hundreds of times stronger than VC. And clinically confirmed that its whitening ability is equivalent to that of hydroquinone.
The most important thing is that the whitening speed is fast and it is flattering to consumers. After more than ten years of continuous understanding of the nature and safety of these raw materials, it is gradually getting permission from various countries. It is gradually used in cosmetics. It is a kind of Emerging efficient natural actives.
Phenyl resorcinol is difficult to dissolve in water, and is easily oxidized and discolored, which limits its application in cosmetics. The use of nano-active substances with a particle size of less than 30 nm developed by the nano-transmission system (NDS) will convert Ethyl resorcinol is stably wrapped in a nano-carrier, which can greatly increase absorption efficiency and bioavailability, overcome the original defects well and maintain advantages, and it is more convenient and widely used.
Phenethyl resorcinol can effectively inhibit melanin synthesis by acting on multiple targets of the melanin synthesis pathway, thereby achieving whitening and brightening effects. Super strong antioxidant, effectively remove harmful free radicals from the skin, fight aging and wrinkles caused by free radicals.
Skin care effect
1. Inhibit melanin synthesis, reduce pigmentation, whiten skin
2. Eliminate free radicals, anti-oxidation, and fight against skin aging
3. Reduce acne marks
Package: 25kg/drum, can also be designed according to customer requirements.
Storage: Store in cool place. Keep container tightly closed in a dry and well-ventilated place.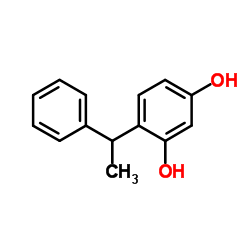 Related News: The company has now selected a single engineered iPSC clone, and generated and fully-characterized the master engineered iPSC bank for GMP production of FT819.4-Amino-3-chlorophenol CAS:17609-80-2 Featured APIs: Production capacity continues to expand, targeted patents expire. Original research drugs: industry entry barriers are high, performance stability and certainty are high.(R)-4-Benzyl-2-oxazolidinone CAS:102029-44-7 Process: The importance of safety is obvious. The research and development of specialty drug substances (especially high-barrier generic drug substance drugs) usually need to avoid the original process patents, and some chemicals are developed because of the complex structure or the harsh synthetic conditions The synthetic route is more difficult, so the importance of process design capabilities of API companies is becoming more important.1-bencil-4- (fenilamino) piperidina-4-carbonitrilo CAS:968-86-5 An effective treatment for Alzheimer's, which is estimated in 60%-70% of around 50 million dementia cases worldwide, could become one of the best-selling drugs globally.It does not require a production license for the drug substance, and can be produced in an ordinary chemical plant. As long as it reaches a certain level, it can be used for the synthesis of the drug substance.