We are 2,6-Dimethylaniline CAS:87-62-7 manufacturer and supplier in China, Pls send inquiry of to info@nbinno.com of visit www.nbinno.com our official website should you have any interests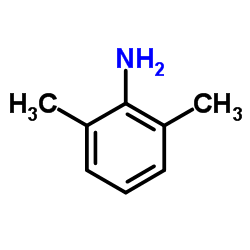 Product Description:
Product Name: 2,6-Dimethylaniline CAS NO: 87-62-7
Synonyms:
2-Amino-m-xylene;
1-amino-2,6-dimethybenzene;
2,6-dimethylbenzeneamine;
Chemical & Physical Properties:
Appearance: Colorless to reddish yellow liquid
Assay :≥99.0%
Density: 0.9842
Boiling Point: 216℃
Melting Point: 10-12℃
Flash Point91℃
Refractive Index: 1.5591-1.5611
Water Solubility: 7.5 g/L (20 ℃)
Stability: Stable under normal temperatures and pressures
Storage Condition: Keep away from sources of ignition. Store in a tightly closed container. Store in a cool, dry, well-ventilated area away from incompatible substances
Vapor Pressure: <0.01 mm Hg ( 20 ℃)
Safety Information:
RTECS: ZE9275000
Hazard Class: 6.1
Safety Statements: S23-S25-S36/37-S61
HS Code: 29214910
WGK Germany: 2
Packing Group: II
Risk Statements: R20/21/22; R37/38; R40; R51/53
Hazard Codes: Xn; N
2,6-Xylidine is an aniline derivative with the chemical formula (CH3)2C6H3NH2. It is an isomer of 2,4-xylidine and 3,4-xylidine. 1-amino-2,6-dimethybenzene is a colorless liquid although commercial samples can appear to be yellow or even red. 2-Amino-m-xylene is used as pesticide, pharmaceutical intermediates, used in the manufacture of metalxylene, furoaxylene and lidocaine, etc. 2,6-dimethylbenzeneamine is an important intermediate in the production of pesticide and medicine, and can also be used as the raw material of dye and other chemical products.
If you are interested in our products or have any questions, please feel free to contact us!
Products under patent are offered for R & D purpose only. However, the final responsibility lies exclusively with the buyer.

Related Products:3-(2-(((1R)-3-methyl-1-(3,5-dimethylphenyl)butyl)carbamoyl)-4-(3-chlorophenoxymethyl)phenyl)propanoic acid methyl ester manufacturer | Acetamide, 2-chloro-N-[2-ethyl-6-(1-methylpropyl)phenyl]-N-2-pentynyl- supplier | 3-(2-(4-benzoylpiperazin-1-yl)-2-oxoacetyl)-4-fluoro-N-(1H-tetrazol-5-yl)-1H-indole-7-carboxamide producer.