We are 2-Methyl-4′-(methylthio)-2-morpholinopropiophenone CAS:71868-10-5 manufacturer and supplier in China, Pls send inquiry of to info@nbinno.com of visit www.nbinno.com our official website should you have any interests

Product Name: 2-Methyl-4'-(methylthio)-2-morpholinopropiophenone
Other Name: 2-methyl-1-(4-methylsulfanylphenyl)-2-morpholin-4-ylpropan-1-one
CAS No: 71868-10-5
MF: C15H21NO2S
MW: 279.39800
Density: 1.15 g/cm3
Boiling point: 420.1ºC at 760 mmHg
Melting point: 74-76 °C(lit.)
Flash point: 207.9ºC
Refractive index: 1.591
UN Number: UN3077
UN Proper Shipping Name: ENVIRONMENTALLY HAZARDOUS SUBSTANCE, SOLID, N.O.S.
Transport hazard class: 9
Packing group: III
Specification
Appearance: White powder
Assay: ≥99%
Volatile matter: ≤0.50%
Transmittance: 425nm ≥92.0%; 500nm ≥96.0%
Application
907 is a highly efficient reactive UV photoinitiator used to initiate UV polymerization of unsaturated prepolymerization systems. Especially suitable for colored UV curing systems.
907 is highly reactive and suitable for color systems, especially for blue. It can be used together with the photosensitizers DETX, ITX, and the light absorption capacity is further enhanced, which is easy to achieve the best balance between surface dry and inside dry.
907 is especially suitable for adhesives for graphic arts, such as screen printing inks and electrical and electronic fields.
907 is a highly efficient free radical (I) photoinitiator for use in the field of deep curing of colored systems.
907 Applied in adhesives, composites, lithographic inks, flexo inks, offset printing inks and varnishes, etc., also used in the electronics industry (such as photoresists, solder mask inks, etc.) and printed boards, it is recommended The amount added is 2-6% w/w.
Package: 25kg/drum, can also be designed according to customer requirements.
Storage: Store in cool place. Keep container tightly closed in a dry and well-ventilated place.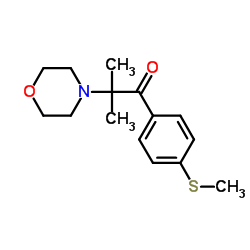 Related News: From the perspective of product structure, the varieties of these enterprises are mainly concentrated in vitamins, antipyretics and analgesics, antibiotics and corticosteroids (ie bulk drug substances).dimethyl disulfide CAS:624-92-0 In April 2019, Glenmark had received approval from the Drugs Controller General of India (DCGI) for Remogliflozin Etabonate after successfully completing Phase-3 clinical trials.(4S)-4-(Phenylthio)-L-proline Hydrochloride CAS:105107-84-4 In an August overhaul to its drug administration law, Beijing said conditional approval could be granted to some still-under-research medicines of "predictable" clinical value for life-threatening diseases for which effective treatment is not immediately available.4-benzhydryloxypiperidine The iLet is designed to function as three medical devices in one. It can be configured as an insulin-only bionic pancreas, a glucagon-only bionic pancreas, or a bihormonal bionic pancreas using insulin and glucagon.Different cell types can be affected, although the most common finding in MDS is a shortage of red blood cells (anaemia). Patients with higher-risk MDS may progress to the development of acute leukaemia.