We are 2-Fluorobenzoyl chloride CAS:393-52-2 manufacturer and supplier in China, Pls send inquiry of to info@nbinno.com of visit www.nbinno.com our official website should you have any interests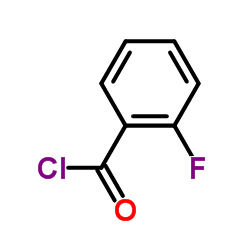 Synonyms:
2-Fluorobenzoyl chloride
o-fluoro-benzoylchlorid
2-Fluorobenzoyl
2-fluoro-benzoylchlorid
o-Fluorobenzoyl
O-FLUOROBENZOYL CHLORIDE
2-fluoro-benzoyl chloride
2-Fluorobenzoyl chlo
ortho-fluorobenzoyl chloride
2-Fluorbenzoylchlorid
2-fluorobenzoic acid chloride
Benzoyl chloride, 2-fluoro-
molecular formula:
C7H4ClFO
Molecular weight: 158.55700

Physical Properties:
Appearance and Properties: Transparent to pale yellow liquid
Density: 1.328 g/mL at 25 °C(lit.)
Boiling point: 90-92 °C15 mm Hg(lit.)
Melting point: 4 °C (lit.)
Flash point: 180 °F
Refractive index: n20/D 1.536(lit.)
Water Solubility: Decomposition
Stability: Stable under normal temperatures and pressures.
Specification:
Appearance:Colorless or pale yellow, transparent liquid
Flufluenzyl chloride, w /%:≥ 99.00
Application:
Flufluoryl chloride can be used as a dye, medicine and pesticide intermediate.
Package and Storage:
This product is packed with 200L iron barrels lined with PVF cover with a net weight of 180kg.The bucket is filled with nitrogen and gas protection, and the packaging bucket is tightly sealed.
Storage: The product shall be strictly sealed and stored in a cool, dry and well-ventilated environment, far away from fire and heat source.Store separately with acid, alkali, and oxidant.Storage period for 12 months under the specified transportation and storage conditions.

Market News:In addition, AZ has been working to ink local commercialization deals to maintain its presence in China, Wang said. (Z)-5-(3-(5,6-di(1-oxidaneyl)-13,23,34,43,54,64-hexaoxin-3-yl)-24,34-tetraoxidan-2-enyl)-13,1'3,24,2'4,33,3'3,43,4'3,54,5'3,63,6'3-2,2′-bihexaoxine manufacturer.Over the past two to three years, VBP has become "quite a challenge," AZ's international and China market chief Leon Wang said on the call. In response, the company has resorted to multichannel marketing, turning to the retail pharmacy market to soften the blow of tender losses. 2-((ethoxycarbonyl)amino)ethyl 2-(2-chloro-5-(2-chloro-4-(trifluoromethyl)phenoxy)phenoxy)propanoate supplier.Cholesterol drug Crestor, blood thinner Brilinta and acid reflux med Nexium have all suffered as a result. Brilinta, for example, saw emerging markets sales drop 40% at constant currencies to $180 million in the first six months of 2021. tetraazanium,dioxido(dioxo)molybdenum producer.